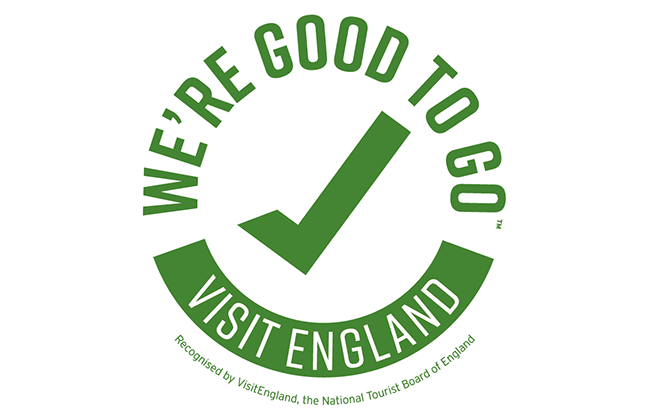 We're 'Good to Go' Accredited for Safety Measures in the Office and Offsite
Helping getting business moving again post lockdown
At Bright Vision Events, we're delighted to announce that we have just received our 'Good to Go' accreditation from Visit Britain/Visit England for our application of suitable safety measures both in the office and offsite. As a business, we have always had the safety of our staff and customers at the centre of everything we do, but 'Good to Go' takes things further, influenced as it has been by the impact of Covid-19 and the need to get businesses opening and moving again safely now that lockdown is easing.
What is The 'Good to Go' Accreditation?
'Good to Go' is a COVID-19 Industry Standard accreditation that has been set up by the National Tourist Organisations of Great Britain and Northern Ireland, designed to:
"….. support businesses as they work towards re-opening and welcoming customers. The 'We're Good To Go' COVID-19 is an industry standard and consumer mark available to provide a 'ring of confidence' for businesses, attractions and destinations as well as reassurance to local residents and visitors that clear processes are in place, especially regarding Government COVID-19 guidance on cleanliness and social distancing, and that as a business you are good to go."
To be accredited, businesses must:
"…have read and implemented the Government's COVID-19 reopening guidance, understood the guidance from Public Health England and have a COVID-19 Risk Assessment in place."
Applications must include a checklist confirming that the necessary processes have been put in place. Once the application has been scrutinised and validated in place, accreditation is granted:
"….In recognition that this business has confirmed that they have followed government and industry COVID-19 guidelines, ensuring processes are in place to maintain cleanliness and aid social/physical distancing."
Click here for a list of Questions and Answers
We are delighted to be 'Good to Go'
Now that business and commercial life is slowly returning to normal/new normal (call it what you will), it is essential that customer confidence is rebuilt; that they feel safe and secure in returning to workplaces and participating in business activities.
As a corporate events company, whilst we have repurposed many of our events for digital/on line usage, there is no doubt that there is pent up demand for the real face to face events that we are so experienced in delivering: conferences, exhibitions and team building, for example.
The We're Good to Go accreditation will play an important part in reassuring businesses that when they send their staff to a Bright Vision organised event they can be sure that the environment will be safe and secure.