Our Best Themed Evening Entertainment Ideas 2017
2017's Highlights for Themed Evening Entertainment Ideas
Now that 2018 is properly underway, here we take our last look back at some of the highlights from 2017, focusing on a few of the testimonials we received for our themed evening entertainment ideas and events. Quite often these form part of a conference or team building event, and are a chance for delegates to relax at the end of a long day.
3M are a valued and returning client, and this is what they said about the evening entertainment we arranged for them at the Ardencote Manor Hotel, near Warwick, on 24th January 2017:
"Morning Ben – we had a fantastic night and it's been the talk over breakfast! We all agreed how well it was run and how you all really got into the roles etc. We've also decided that dressing up is the way forward for any future similar dinners we have – what fun! Thanks again to you and the team."
The entertainment they chose was one of our most popular: A Night at the Races, which was delivered during the dinner, with races taking place between courses to keep the fun going. A great evening.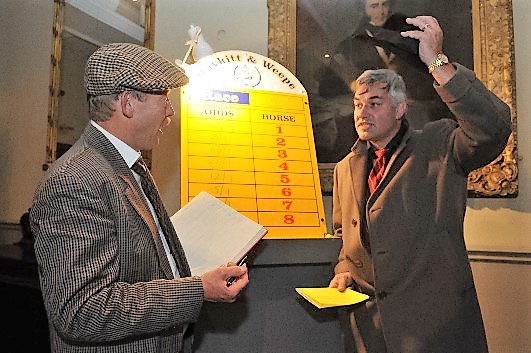 For this client we were contracted to provide team building activities and also the evening entertainment to come at the end of their 3 day residential conference that took place at the Walton Hall Hotel in Warwickshire between 14th and 16th March, 2017.
Following team building activities on the first two days – a Cocktail Making Masterclass and our film making activity Lights, Camera, Action – the evening event on the final night was an 'Oscar's Ceremony'. Extra fun was added here with the presentation of Oscars to the best films from Lights, Camera, Action.
This is what the client said:
" I Just wanted to drop you a line to pass on our huge thanks to you and your team for helping to make our Kick-Off conference such a great success….. . One of our Dutch guys commented that it was the best team building activity he has ever taken part in. I very much look forward to receiving a copy of the movies and the out-takes."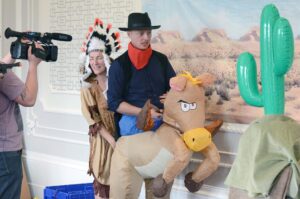 The client, the construction consultants Edmond Shipway, was delighted:
"Hi Paul
I hope you are well. This is a belated thank you for yet another fantastic themed event by Bright Vision and lead amazingly by yourself. It was a great event and the evening was a lot of fun. The room and theming was stunning! It's hard to put into words as a simple thank you doesn't justify your efforts. Nothing shines quite as bright as Bright Vision eh!
Your whole team were great so please do pass on my thanks to Halinka- lovely to meet her at last. A big shout out to Tony (IT/Sounds guru) who was "first class" throughout the day. Little things like the change of outfits to match the theme didn't go unnoticed. I often think you can evaluate an event by looking at how my colleagues and yours interact – and it certainly felt as if we were all one team.
I hope you managed to enjoy it too. It's a pleasure to work with you as always and I truly mean that. You take my simple ideas and make them happen, brilliantly."
The theme was based around "I'm a Celebrity, Get Me Out of Here", which culminated in a Bush Tucker quiz and a dunk tank test of nerve!
Contact us for Themed Evening Entertainment Ideas
If you're planning a themed evening event for your company at some stage in 2018, standalone, or as part of a conference or training day, please contact us or call us on 01295 770933 for an initial chat. If you want something a bit different, why not challenge us to come up with something creative and exciting for your company.