Conference Production Services for IAAF Heritage Collection Event
Whilst the IAAF World Indoor Athletics Championships were taking place at Arena Birmingham from 1st – 4th March, 2018, the conference production services team from Bright Vision Events was also in town to help with full audio/visual support for the IAAF Heritage Collection Event at Birmingham's superb Council House. This article gives an insight into what IAAF Heritage is about and what services and equipment we supplied to help make the event such a success. It also took place when the 'Beast from the East' hit town, with heavy snow and freezing conditions. There was a lot to contend with, but the show went on.
About the IAAF Heritage Collection Event
IAAF Heritage is a new department of the IAAF which launched in January 2018. Its purpose is to preserve the legacy of athletics over the years: the athletes themselves and the media that portrays their performances, including videos, photographs and documents. As the IAAF says, it is all about: "savouring the best, promoting the present, and engaging with the future."
As part of IAAF Heritage, the IAAF Heritage Collection was launched in the historic and ornate Banqueting Suite of Birmingham's Council House on the closing day of the World Indoor Championships being staged nearby. The room featured displays of many of the most famous athletes from over the years, including: Dorando Pietri, Fanny Blankers Koen, Bob Beamon, Jim Thorpe and Paavo Nurmi. As the IAAF President, Sebastian Coe put it:
"IAAF Heritage will celebrate and forge connection across 3000 years of our sport, telling athletics' rich story, based upon a myriad of marvellous memories and moments which few other sports can match."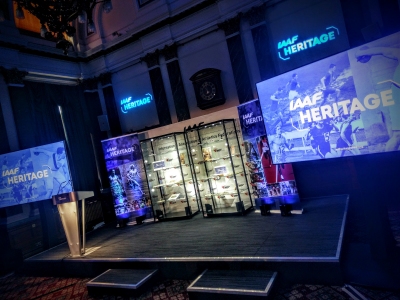 Our Input into this Historic Event
Although technically not a conference, this event needed all of our conference production services and skills, along with detailed planning for a successful delivery to a select and important audience. Our work comprised:
Video: We provided 4 x LED screens for this event, 2 x 95" screens (due to their large size we had to use motorised stands) and 2 x 55" screens as repeaters further down the room. The presenter also had a 46" LED screen as a comfort monitor. This was supported by a full back end of 2 x laptops and 2 x Macbooks for all video content (there were 9 videos) all controlled by digital switching.
Staging: We provided 2 stages, 1 for the main stage (6m x 3m) and 1 for the press (4m x 2m). The Press also required their own audio feeds from our sound desk.
Lighting: Due to the age of the building, which dates back to Victorian times, we weren't blessed with masses of power, so we ensured that all lighting was using LED fixtures. We had 24 wireless LED up-lighters for backdrops and wall colours, 6 LED spot lights for stage and 2 x LED moving lights with IAAF gobo for moving effects.
Sound: We installed a 4 speaker PA system with additional 2 sub speakers and monitor speakers for the stage. All controlled by our 24 channel digital sound desk. The Press also needed an audio feed and presenters had either fixed lectern mics or a combination of radio mics, whether lapel or handheld.
Crew: 4 crew were needed for the live event (show caller, lighting, video and sound) with another 2 additional crew for the staging plus 4 more local crew for set up, as access was on the 1st floor up the grand staircase!
We were delighted to be involved in helping to stage this event for the IAAF. The weather did not help and the venue itself presented some interesting challenges, but all went smoothly. We were really pleased to receive this comment from the organiser:
"Thank you to you and all your teams for the marvellous work and support over the last weeks and days, without which the delivery of the IAAF Heritage Launch in The Council House today and our display in the lobby of the Hyatt could not have taken place. I am greatly in your debt.
 Anyway, THANK YOU! Your work was superb and you delivered it with a professionalism and good humour which would be hard to match. Please thank all your colleagues on my behalf."
Looking for a
Great Conference?
If you like this testimonial, challenge us to help make your next conference truly memorable.
Challenge Us!
If you need the expertise of our team to stage your conference, contact us or call us on 01295 770933. Click here to see some of our other conference testimonials.