Masterminding a Successful Staff Conference for Brother at St. George's Park
We recently managed a successful full staff conference production (with evening awards dinner) for the printing, scanning and business solutions company Brother. Given that the venue was the superb Hilton Hotel at St. George's Park near Burton on Trent, the home of all of the FA's England Football Teams, we hope you'll forgive the occasional football based pun! Suffice to say that when a delighted client suggested we will be his first point of contact for the next conference, we were, of course, 'over the moon'!
The Client Sees us as Part of the Extended Team for our Conference Production and Management Services
As you can see from the client's comments below, one of the key things with any conference is to be able to adapt when something unexpected happens. In this case, through nobody's fault, the slide sequence for the evening was wrong. Happily, we were able to work around it, much to the client's relief when the final whistle blew (sorry!).
"Thank you so much for your hard work, you really make a difference to how our event looks. And we all love working with you guys, you make it relaxed and pain free. The feedback that I receive from my colleagues is very positive. We see you as part of our extended team.
I'm also pleased that you are now getting to know other people in the organisation and they can approach you direct – this really takes the heat off me. Sorry about the mix-up re: the evening slide sequence – all our fault!  Unfortunately because of Easter holidays, it messed things up a bit with getting the deck over sooner which would have made things clearer for you. But as usual, you took it in your stride and worked around it. 
If anything else comes up such as another Brother customer conference, you will be my first point of call!"
Looking for a
Great Conference?
If you like this testimonial, challenge us to help make your next conference truly memorable.
Challenge Us!
Our Tactical Planning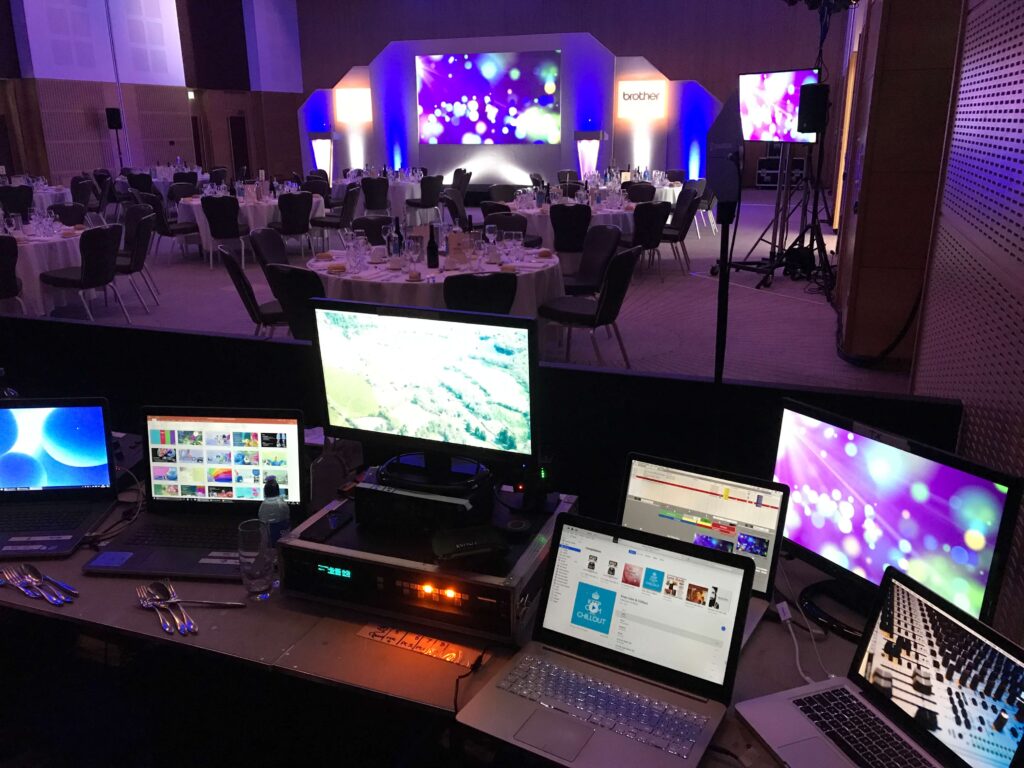 This was a staff conference and evening awards ceremony for Brother, held on 18th and 19th April, 2017, in the Sir Bobby Robson Suite. 100 people attended, so it was a pretty big conference production that required plenty of planning. The production included:
A Stock set and stage,
2 lecterns,
3 phase power,
12 x wireless up-lighting,
8 static stage wash/spot system,
HD laser projection,
2 x 55" repeater screens,
6 speaker PA system with 2 sub speakers,
HD switcher and DVI cabling for HD quality,
2 x laptops for show slides, and
2 x Macbook pros for all video playback.
As this list demonstrates, the attention to detail and the quality of the AV equipment is more crucial than ever to the success of a conference. Plus of course our crew, who put it all together, made sure everything worked, perfectly, and responded to issues as they arose, quickly and efficiently. Take a look at this blog, which details what to look for in a production company.
Contact us for our Conference Production and Management Services
If you are looking for a Conference Production Company to run your staff conference, why not challenge us to deliver something really spectacular for you? Take a look at a few more of our conference testimonials, contact us or call us on 01295 770933 for an initial chat. We would be delighted to hear from you.