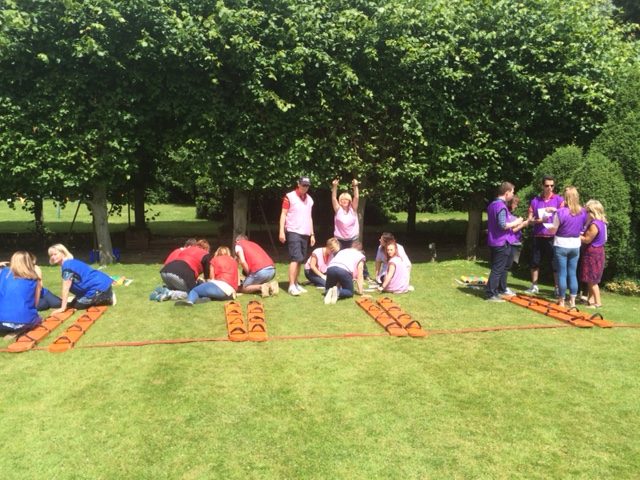 Testimonial for Tayler Bradshaw's Team Building Activity Day. 
Here at Bright Vision Events, one of our key specialisms is delivering team building days and activities, indoors or outdoors. We do this for all types of company, large and small, in all types of industry sectors. This testimonial features a team building day we ran for Saffron Walden based accountancy firm, Tayler Bradshaw, on July 14th 2016.
Looking for a
Great Team Building Day?
If you like this testimonial, challenge us to help make your next team building day truly memorable.
Challenge Us!
Team Building Days Help With A Company's Success
Happy and motivated staff are one of the most important components of a successful company. It's all about motivation, inspiration, lasting impressions and, of course fun.
In this case, our planning started with a detailed conversation with Gemma Hazel who looks after events at Tayler Bradshaw. Her brief to us was to plan, build and run a relaxed team building activity day for all 24 members of staff to enjoy. Importantly the location needed to be exclusive with perfect surroundings to make the day as special as possible. The solution was the superb idyllic surroundings of Parklands Quendon Hall, near Quendon in Essex.
Gemma said:
"Just wanted to say a huge thank you for your amazing team building day for Tayler Bradshaw. The day couldn't have gone better & everyone really enjoyed it.
Tayler Bradshaw will definitely think of you for further functions & would recommend you to others."
Kind regards
Gemma Hazell
A Labyrinth Team Building Event Was The Answer
The Labyrinth is one of our most popular and effective team building days. At its heart, Labyrinth always features a series of physical and intellectual challenges, based around TV's The Crystal Maze or The Krypton Factor that all can participate in. It is a very flexible activity, which can be tailored to a client's particular requirements. In this case the Labyrinth was a light hearted but competitive activity, with all staff enjoying themselves utilising their (unrealised) engineering skills. The grand finale was a creative and effective egg launch.
The day was voted a huge success by all of the staff, who excelled at the challenges. This proves that accountants have many more skills than preparing balance sheets and giving tax advice? In addition, the weather was perfect and a lunchtime Barbecue rounded the day off nicely.
Free Venue Finding Service for Team Building Days
Finding the right venue for your team building day – or indeed any type of corporate event – is just as important as the event itself. We offer a free venue finding service to help things along. As members of the Hotel Booking Agents Association and the Event and Visual Communication Association, we often have access to discounted rates when it comes to making your booking.  Just tell us what you are looking for and we'll come back with a shortlist of venues that match your requirements.
Contact Us For Help With Team Building Activity Days
Click here to some more testimonials for clients we have run team building activity days for. If you would like to talk to them, we will be happy to put you in touch. Why not have a look at this article about our new thinking towards planning and running team building activities.
If you like what you see on this website, then please contact us. Alternatively you can call us on 01295 770933 for an initial chat about your team building day. We love a challenge and will be happy to help.