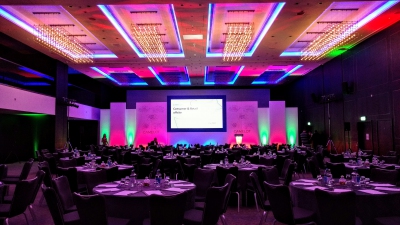 Testimonial for our Conference Production Company Overcoming Logistical Issues
They say that every corporate event is different and presents its own challenges. This was certainly the case when our experience as a conference production company came in very handy, recently, in overcoming a major logistic issue in setting up a conference for one of our clients.
This testimonial details the challenge we were faced with and how we were able to overcome it. Click on the link to see some more testimonials for our Conference Production and Management.
The Challenge for This Conference Production
This was a conference and evening entertainment event which took place in the Bankside Ballroom of the Hilton London Bankside Hotel on 3rd and 4th May 2017. It was a large conference, attended by 170 delegates, to which we assigned a team of 10 (including the truck driver and the set and stage crew), of which 4 were present to operate the show itself.
The main challenge with this event was the restricted access times into the hotel for us to unload our equipment to start the set build. To avoid noise and disruption for the local residents, the hotel's loading bay is closed between 23.00 and 7.00, which are the hours during which we normally unload when traffic is calmer.
We're used to this sort of challenge, however, which meant unusual loading and unloading times outside of the event dates to ensure we had the equipment on and off site when we needed to. In addition, the hotel was booked for back to back shows before and after we were on, so our logistics had to accommodate this complexity as well.
This is what the client said:
"It should really be me thanking you. You and your guys did an amazing job even with the many changes. It was great know that I didn't have to worry about anything and that you had it all covered. Will definitely keep you top of the list for any future events we do (ideally with a lot more notice!!)."
Looking for a
Great Conference?
If you like this testimonial, challenge us to help make your next conference truly memorable.
Challenge Us!
What did the Production Involve?
As a full service conference production company, we provided all of the audio visual support and evening entertainment for this client's conference, as follows:
The production included a bespoke 4.5m high set with an in-built 16" x 9" screen.
Projection was in high definition from 20k lumen laser projectors.
The lighting rig included 12 moving lights, 12 static generic stage light
The audio package included an 8 speaker PA system run by a 24 channel digital desk with additional sub speakers and monitors for the stage.
As you can see, there was plenty to do!
For best use of space we split the crew into two teams. We located the sound and lighting team at front of house, with the data and video behind the set with the back projection. The crew communicated through wireless comms throughout the show for ease and efficiency.
The Evening Entertainment Required a Quick Turnaround
Many conferences finish off with evening entertainment once the serious business is over. With this conference we had just enough time to turn the room around and prepare it for the evening entertainment.
We created the client's very own classic games arcade, which included:
2 x Arcade Machines (Pacman and Space Invaders)
A Dance Machine (2 player)
1 x Pinball machine
A Basketball Shootout
A UFO or Batak reaction game
1 x Driving arcade machine (2 player)
1 x Arcade Crane
An Air Hockey game
1 x Table Football
1 x Jenga
A Connect 4
Click here for more on our evening events
Are you Looking for a New Conference Production Company?
The good news is that everything turned out well with this conference production, and we overcame the  logistical challenges, comfortably. Proof that good planning is everything when it comes to successful conference production.
If you're looking for a new conference production company, contact us or call us on 01295 770933 for an initial chat. We're always up for a challenge.