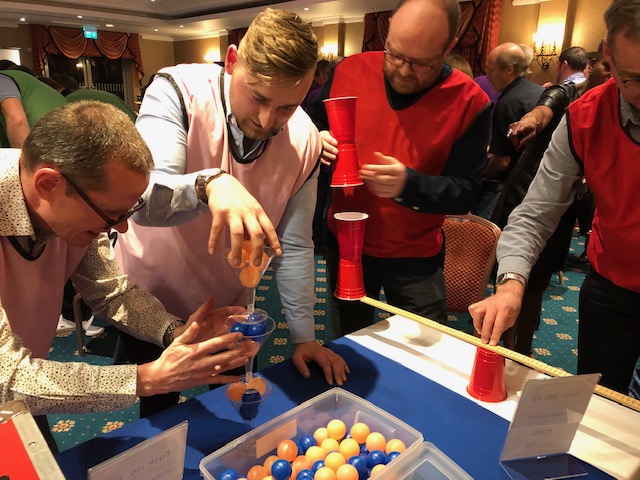 'Outside the Box' was Perfect for Eaton Electric
"What a Fantastic Activity" – Client Testimonial. 
This testimonial is from Eaton Electric for one of our corporate team building events, 'Outside the Box' that we managed and produced for them recently. The event was held in February 2019 at the Hellidon Lakes Hotel near Daventry.
"What a fantastic activity!  I don't think in my nine years of working and supporting the UK Country Sales organisation at Eaton that I have seen my colleagues all so engaged and willing to participate and have such fun as with Outside the Box.
Thank you to you and your team for executing such a fabulous activity. I have already passed your details onto my EMEA Events team." 

The last sentence is the really nice bit – being referred on to another part of the business means this team building exercise went down really well.
Looking for a
Great Team Building Day?
If you like this testimonial, challenge us to help make your next team building day truly memorable.
Challenge Us!
If you like the sound of this testimonial, and think that Outside the Box, or one of our other corporate team building events could do the same for your company, simply contact us or call us on 01295 770933 for an initial chat.
Eaton Electric Wanted a Corporate Team Building Event for 80 People
Eaton Electric Limited, the global power management company, required a corporate team building event for 80 people that would follow their main Conference and would fill the gap between the end of the Conference dinner. It had to be suitable for the 80 strong list of delegates, whilst also being quick and easy to set up indoors and strong on engagement, team bonding and team development with a duration of about an hour.
Our Outside the Box team building event was felt to be the best option as it combined creativity, efficient use of resources and most importantly was seen to be most likely to deliver a huge amount of fun and camaraderie for those taking part.
Outside the Box really delivers on the following team work skills:
time management,
negotiation skills,
problem solving skills,
co-operation and relationship building skills,
strategy and leadership skills,
planning and communication….
………all wrapped up in fun and entertainment as well as being challenging. Each team are given a combination locked box, and the objective is for the teams to open using 4 clues they are given. Once the box is open, teams must work together to complete a further range of tasks and challenges, relying on teamwork and also collaboration with other teams, with our facilitator keeping a close eye on things. Click here for more details.
Outside the Box was a Great Success for Eaton Electric
The event proved to be a great success – as the above testimonial, shows -with some particularly artistic hats being created and worn by team members to earn bonus points and some interesting variations on Morris Dancing performed by eager members of the Red team as the rapport grew!
Please get in touch if you like the sound of Outside the Box or would like to find out more about our range of corporate team building activities. Challenge us to come up with team builder activities that improve communication and develop team spirit and effectiveness.