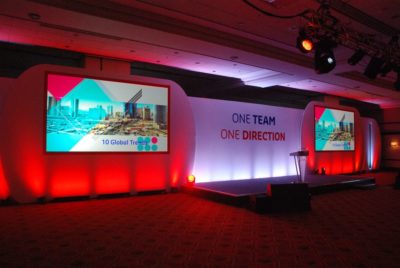 At Bright Vision Events, one of our core services is conference production and management. Featured here is a testimonial from Sodexo UK, the well known provider of quality of life services, including food, benefits and rewards and personal and home services. Sodexo retained us to manage a big recent conference for them. We are delighted they were so pleased with our work.
Here's what the client had to say:
"Hi Ben,
Just wanted to say a massive thank you for all your support around our Service Operations conference. I spoke to a lot of people who said it was the best Sodexo conference they'd been to. It was super slick, and they loved the iPad interaction.
Please extend my thanks to Tony, Sanjay, Don, Joey, Richard, Simon, Jon and the rest of the team. They did a fantastic job."
(For and on behalf of Sodexo UK)
Looking for a
Great Conference?
If you like this testimonial, challenge us to help make your next conference truly memorable.
Challenge Us!
We're pleased to put potential new clients in touch with those who give us testimonials. Feel free to contact us for more information about this testimonial.
The Set-Up Details of our Conference Production for Sodexo
This was a large one day conference and gala dinner for Sodexo, with over 400 guests invited, typical of the type of conferences we work on. The venue was the Palace Suite at the prestigious Hilton Birmingham Metropole hotel.
We provided full conference production and management, which required an overnight set-up starting at 1 am, with the rig ready at 8 am on the morning of the conference for rehearsals. We needed a large technical crew of 16 to complete the work on time, which included:
A bespoke twin screen set with 2 x 20k projectors.
Ceiling rigging, with 16 moving lights, plus 12 static lighting and 24 wireless up-lighters.
A 10 speaker front of house PA system with additional subs and monitor speakers,
A technician talk back system for the crew
The Guests Had a Great Time
During the conference part of the day, every table had an iPad. This enabled guests to interact and engage with the proceedings, which featured several speakers. When this kind of technology is used, there is no substitute for hard work in the preparation, planning and rehearsals to make sure everything works perfectly. Thankfully it did. Click here for one of our news stories about what to look for when choosing a conference production company.
The evening featured a 'round the world' buffet with a disco and a whole host of free-flow games. These included indoor target shooting and scalextric through to skittle alley, photo booths and arcade games. Everyone ate well and enjoyed the entertainment.
Contact Us if You Are Looking for a Conference Production Company
If you're planning a conference we would love to hear from you. Don't just take Sodexo's word for it, though. Click here to see a few more of our testimonials. We also offer a free venue finding service if you need some help finding the perfect location for your conference.
Contact us or call us on 01295 770933 for a no obligation initial chat.