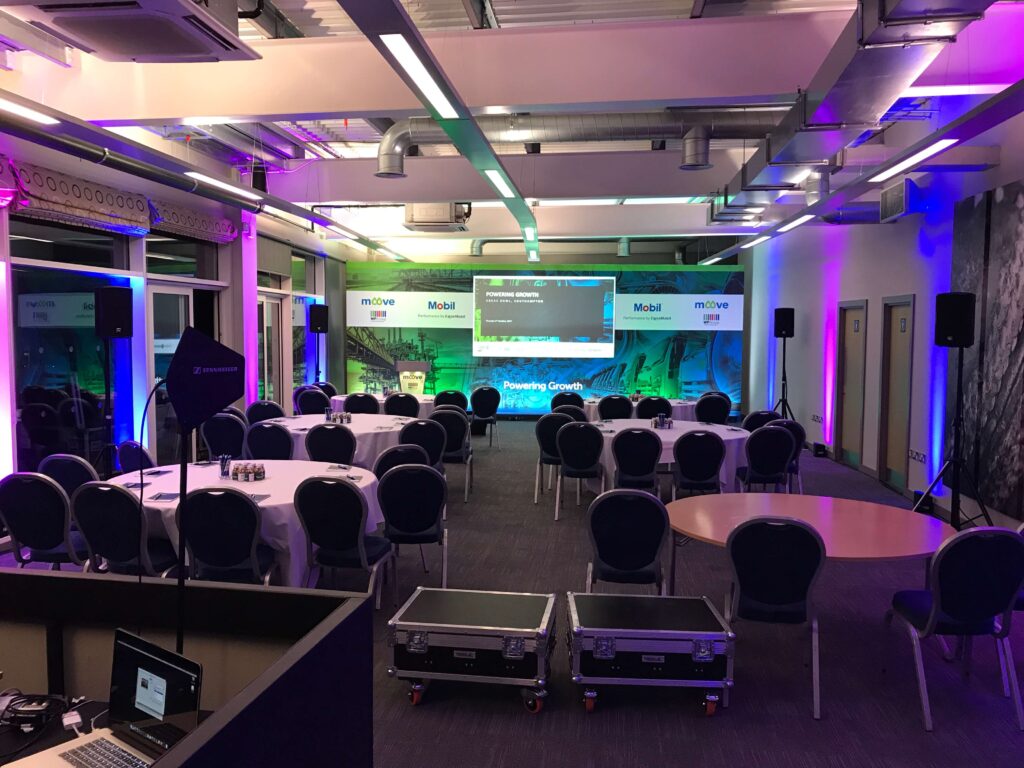 Testimonial from 'Moove' for our Conference Production and Team Building Activity
Moove (a trading name of Comma Oil) is a valued and returning client of ours. This article features a testimonial from them for an event we managed and produced, which involved both conference production and a team building activity. As an events company, we always like to have the opportunity to deliver a complete solution, made even better in this case by the superb venue.
The Details of This Event
The event took place on 5th and 6th October, 2017, at the superb Ageas Bowl in Southampton, the home of Hampshire County Cricket Club, and a venue for international cricket. Fifty delegates attended.
Our Conference Production work included:
Full day AV support including a set with a complete HD printed graphic wrap, which was incredibly striking.
Projection from a single 7k HD laser projector, all fed with digital cabling so all content was fully High Definition – perfect for getting the message across.
We used a crew of 2 for the conference, with a further 2 for the installation and de-rig.  During the conference:
We controlled all screen content through an HD switcher via Macs, so the show was run in keynote and all videos were run through Playback pro.
Lighting was all LED with battens powering the set and wireless LED lights for the surrounding walls, all controlled through a 24/48 channel lighting desk.
Sound was a simple 16 channel desk with 4 speakers and 6 radio channels of mics. A branded lectern completed the kit.
As you can see, this is the level of high technology kit that we use now to guarantee excellent production values.
The Team Building Activity Took Place in the Afternoon
The team building activity was our interactive Pitstop Challenge. This requires teams to purchase the parts they need to build the best looking and best performing self propelled model racing car.
It's one of our most popular challenges, and the teams must:
Design and build a working model of an F1 racing car OR any other vehicle to suit them – e.g. a truck, mobile home, etc.
They can only use the equipment available from our "Pit Shop''.
All vehicles must be "self-propelled" and cannot be aided by pushing, pulling or similar means.
All cars must carry the company's advertising too!
In addition to the 'engineering' aspect, design aesthetics are also important, meaning there is a guaranteed role for each team member. This activity is an exercise in project management, communication, best use of resources, and planning.
The results were superb, and there were plenty of laughs along the way.
Here's what our client said
 "Thanks again for last two days, great job as always."
That says it all really, and we're delighted that they were happy.
Looking for a
Great Conference?
If you like this testimonial, challenge us to help make your next conference truly memorable.
Challenge Us!
If you're looking for a conference production company, one that can also deliver a superb team building activity, please contact us or call us on 01295 770933 for an initial chat. We would be delighted to take up the challenge of delivering an outstanding event for you.