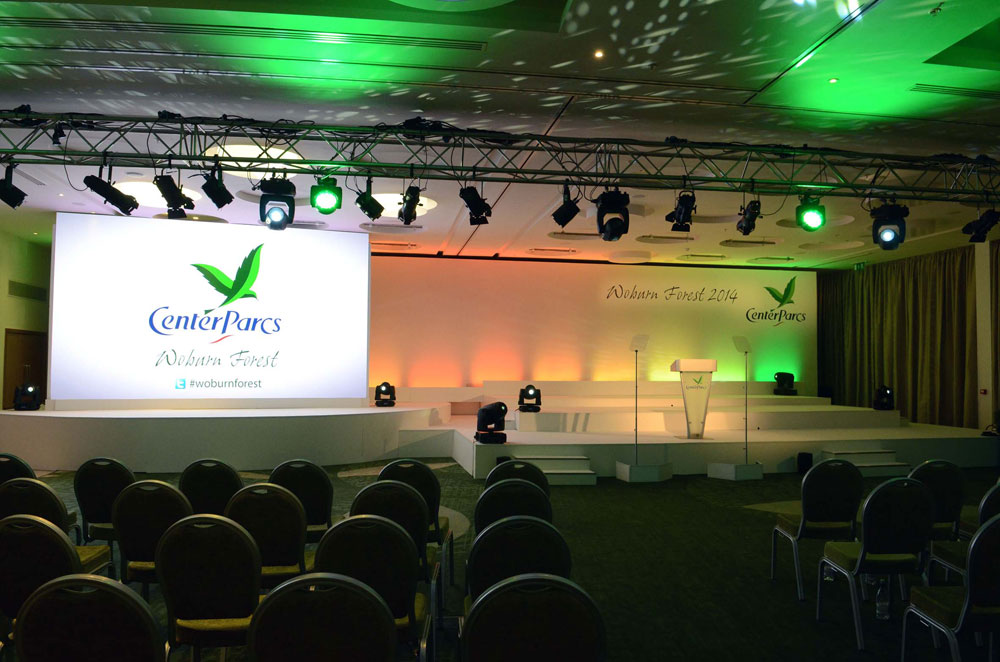 In May 2014, we were contracted to provide the conference and event management audio visual support for the press launch and celebratory staff party for the opening of the new Center Parcs site in Woburn Forest. The press launch was for 100 people and the Gala Dinner for 350, and the planning for this large and prestigious corporate event took 18 months.
Looking for a
Great Conference?
If you like this testimonial, challenge us to help make your next conference truly memorable.
Challenge Us!
The Brief for This Corporate Event
The brief itself was simple: to provide complete audio visual support and management for a high profile media launch, followed by an internal staff party to thank all those who had been a part of the project. The audio visual solution had to consider both elements of the event, each of which had their own requirements and challenges.
The media press launch was for an audience of 100 so needed an intimate feel. In attendance were the BBC, Sky, local news reporters, radios and film crews. The show was also streamed live to a huge number of other media sources who couldn't attend the event personally. The staff party was for a sit down gala dinner for 350 guests and included a 24 piece band, entertainers and awards.
Our Solution to This Conference's Requirements
This was a complex and challenging brief, which required an onsite crew of 10 technicians plus set and stage builders and a local crew to work on the project which was delivered over 4 days. Our work included: 2 days build, 1 day for  rehearsals and 1 day and evening for the show.
The Audio Visual solution included an autocue system, 32 intelligent moving lights, a 16ft x 9ft LED screen, 3 tiers of staging,  3 HD camera channels, 36 metres of ceiling trussing and a top end line array speaker system.
This is What Our Client Had to Say
"Thank you to you and the team for all your hard work, the events really were incredibly orchestrated and were executed expertly! I realise why we were so keen to get you involved in the Launch! Lots of journalists told us that they were really impressed and I am only hearing positive things about the dinner as well. An amazing event through and through! Thank you so much!"                         
 Center Parcs UK
Testimonials like these are what we are in business for. If you are planning a conference and are looking for a professional conference organiser to plan and deliver a full conference production, including set building and Audio Visual support, please contact us or call us on 01295 770933 for an initial discussion.