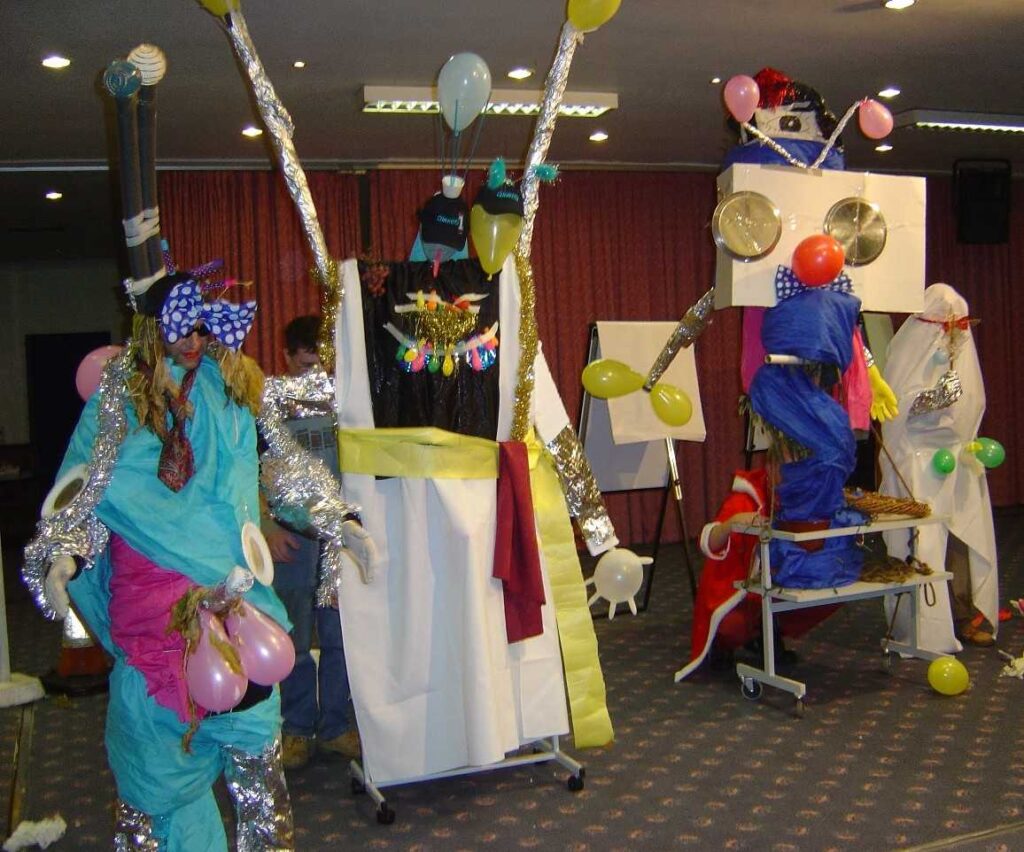 Testimonials for Creative Team Building Activities 2017
It's Been a Busy Year for Delivering Creative Team Building Activities
2017 has been a busy year at Bright Vision Events, right across our main areas of producing and managing creative and successful conferences, team building activities, exhibitions and themed events. So as we approach the end of the year, and the busy time of Christmas, we thought we would take a look at some of our highlights of 2017, starting with team building activities.
Right at the centre of everything that we do are our clients, of course, so it will come as no surprise when our highlights are provided by the testimonials we receive from our clients. Here we look at just 3 of these testimonials, for events ranging from 20 to 200 people.
January 2017 – Corporate Team Building Activity Testimonial from ICS Cool Energy
The year got off to a busy start – and never let up, with a team building activity for 45 of ICS Cool Energy's staff at the Ardencote Hotel in Warwickshire. They challenged us to deliver activities that would encourage networking and team building amongst their sales teams. The solution was a bespoke version of our Labyrinth Challenge, which sets a range of physical and intellectual exercises for the sales teams, in the style of the Krypton Factor or the Crystal Maze.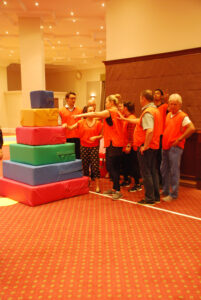 The client was delighted with the results:
"The afternoon Labyrinth event was thoroughly enjoyed by all the delegates, especially  with the engineers present in the red team that were one of the talking points  of the challenge as they built a flawless example of a contraption that launched a rubber duck straight into a pond with the accuracy of a Swiss watchmaker  – a feat they performed several times!"
Most importantly, the client confirmed that interaction, cooperation and collaboration between the sales teams had improved as a result of the activities.
June 2017 – Our Creative Team Building Activities were the Icing on the Cake for Swim England
We provided 3 events in 1 for Swim England at their summer conference, team building and gala dinner day, involving c.200 guests. The team building activity, which featured our Masterpiece Creation exercise was the icing on the cake, providing the link between the conference and the gala dinner. Masterpiece Creation is truly a creative activity, as it requires teams to reproduce on segment of an art masterpiece, before all the segments are assembled to make the whole.
The potential to get it wrong is huge, so teams must work together, both internally and with the other teams, to ensure a great result. In this case there were 24 teams!! This is what the client had to say:
"Just wanted to drop you an email to say thank you for your work on the Conference & Awards. The team did a great job and everything went to plan from your side.
 I appreciate the support you guys gave us. I thought the Masterpiece was an excellent project and the actual artwork came out better than I expected! Please pass on my thanks to the rest of the team and I look forward to working with you again."
October 2017: Outdoor Team Building Activity Testimonial from Nora Flooring Systems
Finally, big thanks to Nora Flooring Systems for this testimonial:
" It was a brilliant afternoon and everyone enjoyed themselves . In fact they were talking about it for days after. Very well organised and your staff were very professional. A thoroughly enjoyable event and we will use you again."
This team building activity was for 22 of their employees for whom we created an Alternative Olympics, featuring amongst other events: caber tossing, space hopper football and 'Giant Ski' skiing. Luckily for October, the rain stayed away, so we didn't have to implement our wet weather contingency.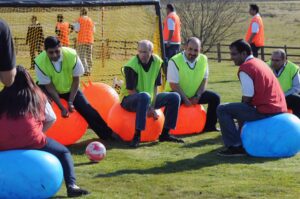 Contact us for Creative Team Building Activities
We hope that these 3 testimonials give you a flavour of the planning and thought we put into all of our team building activities. If you're planning such an activity for your company in 2018, please contact us or call us on 01295 770933 for an initial chat and challenge us to come up with something creative and exciting for your team.