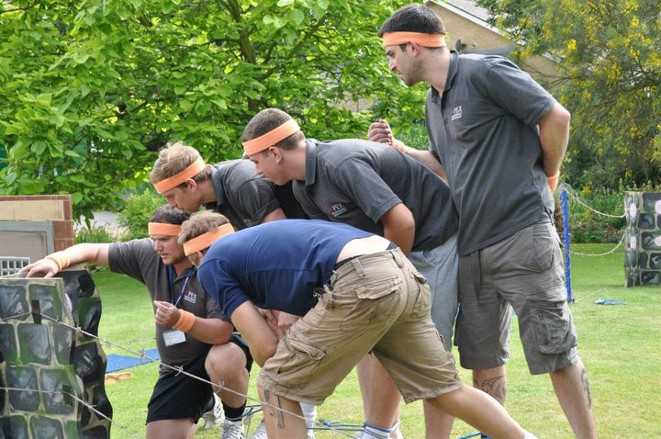 Team Building Activities – it's all about balance
All work forces contain a range of personalities and temperaments. This should lead to a rich and diverse working environment, if people work together as a team.  Team building activities are an excellent way to bring people together to discover each other's talents and build connections outside their normal routines of daily work.
Everyone has something to offer and given the right environment your staff can all work together productively to make the most of each individual's strengths. Our team building days can help.
We Design Our Team Building Activities to Suit Everyone
At Bright Vision Events we put a huge amount of effort in to designing team building activity programmes that are suitable for all. In particular we ensure the activities are non-threatening to those that may feel out of their comfort zones.
It is essential that the participants in our team building days enjoy their activities and can bring the positive influences of the day back to the office. We always emphasise collaborative efforts. Our challenges are not about rewarding the victors or humiliating the losers but about engaging those taking part to think, plan, discuss and operate as a group to achieve the desired goals.
The Labyrinth Team Building Challenges
Our suite of Labyrinth Challenges has been created by our expert team over a number of years as a key focus of our team building programme of activities. What's more we constantly update and expand them to provide distinct mini challenges that can be added together to make an exceptional day of team building activities for your staff.
The challenges are played simultaneously by all teams on rotation. There is never a dull moment as the participants are not left waiting around to have their turn. We make sure that our activities contain many varied aspects for the team to complete successfully, from logic and communication to planning and negotiation. There is a physical aspect to some of the challenges too but some are also purely creative giving everyone something they can excel in.
What our clients say:
The feedback from our clients, shown below, says it all, where even the most apprehensive of participants ended the day with a smile on their face. All felt they were part of a special day with colleagues. We really can't recommend these Labyrinth Challenges highly enough but please don't just take our word for it:
"Just wanted to say a huge thank you for your amazing team building day for Tayler Bradshaw. The day couldn't have gone better & everyone really enjoyed it.
Tayler Bradshaw will definitely think of you for further functions & would recommend you to others."
"Many thanks for arranging such a brilliant team building event. I've already started receiving emails in from the guys saying how much they enjoyed it!
As usual, everything seems to have run like clockwork. I'm sure I'll be back in touch shortly to start making arrangements for our annual Awards Dinner in January.
Please thank all your team on our behalf – they're a great group of people."
Kind regards"
"… and thank you for the amazing activity you delivered.  It was a huge success… we couldn't have asked for more… it made the conference. Everyone had such a great time and the teams will be talking about it for weeks to come.  The activity was, without doubt, the most fun the team has had together without alcohol!".
"The team had a great time, and they enjoyed the mix of physical and 'brain' activities. The Segway and shooting activities were definitely the winners. We could not have started our long week of meetings differently. Thank you very much for providing the entertainment."
If you're looking for Fresh Ideas for Team Building Activities, Get in Touch
We would be delighted to have a chat about your indoor or outdoor team building requirements. Please contact us or call us on 01295 770933.