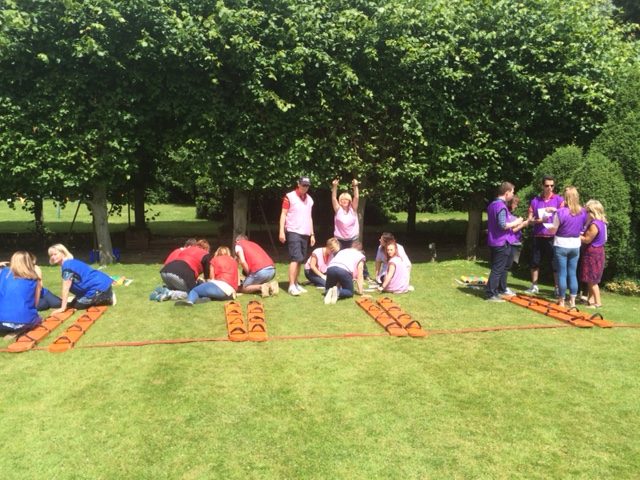 Outdoor Team Building Activities and the Weather
How to Beat the Weather for Outdoor Team Building Activities
Here we are fast approaching the summer months. The grass is looking greener, flowers are blooming, and the temperature is finally rising after a long and cold winter. It's the perfect time to book your corporate outdoor team building activities, right? Absolutely!!
But what about the weather? It might be pretty good right now, but this is England, and rain is never all that far away. In this article, we look at how we plan for rain, so that we are prepared and ready with a contingency to make sure your outdoor team building activity goes off without a hitch
What Do We Do if the Weather Forecast Says Rain on Your Event Day?
The first thing to say is that many of our team building activities can be run outdoors – even in the rain! However, we know that for the comfort of our clients, they are not always happy to be outdoors getting wet or cold, or both! Which is why we always plan for wet weather.
Our experienced and professional event managers will discuss an indoor contingency option for your activities upon booking your event. This means, of course, that the choice of venue is important, as it must offer an indoor space, if needed.
It's true to say that with some of our outdoor activities it's not always as easy as saying we can just bring the activity indoors. We're not sure the venue would appreciate Duck Herding in a conference room, for example! Therefore, it is part of our service to plan and organise an indoor option, that fulfils the original brief (even if it isn't the same type of event), to ensure that we deliver the best possible event on the day.
As always, everything is in the planning. Click on the links below to here to see some of our Outdoor Team Building Testimonials:
A Wide Range of Outdoor Team Building Activities
We have a fantastic range of outdoor team building activities to offer, from our Labyrinth Challenge, Alternative Olympics and School Sports Day right through to Treasure Hunts, Duck Herding and Archery.
In planning your activity with you, we always aim to:
Match the challenges the activity presents to the needs of the participants
Make sure that the activities are suitable for all levels of fitness
Guarantee that there is plenty of fun to be had, as well as learning
With these aims in mind and given our large range of activities to choose from, we are confident that we will have the perfect solution to engage your team. Whether you're a new team, a group of 5 or 500 or a workforce looking for a fun filled away day, we will design a programme to suit your requirements.
We promote the use of communication skills in fun and engaging environments and aim to ensure that your people and the teams they work with are stronger, more cohesive and more productive, because of the activity, whether the sun is shining or if the rain comes.
If you are looking for an outdoor team building activity, contact us or call us on 01295 770933 for an initial discussion. We can also help you with our free venue finding service.