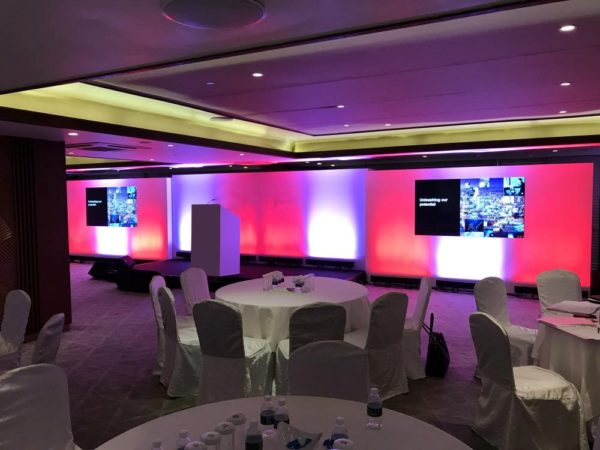 Our Conference Management and Production Services Go Global!
Major Conference in Singapore with Team Building and Entertainment
For many years, we have delivered our conference management and production services to companies in Europe, as well as across the UK, so we have plenty of experience working overseas. In this case, however, the location was truly global – Singapore. The client, whom we have worked with for many times wanted us to plan, run and manage their global conference for their 50 most senior managers, worldwide, between 23rd and 29th June 2018.
The pressure was on to deliver everything perfectly, including: the entertainment and team building requirements, sourcing and managing the suppliers and finding and managing the venue. In other words, the whole package. Here's how we performed.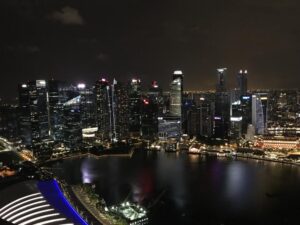 We compiled a short list of venues for presentation to the client, and then made site visits to the front runners to enable the client to make the right choice. The winner was the Garden Room at the prestigious Shangri La – an outstanding venue.
The Next Step was to Locate Local Agencies to Support Us
When delivering conference management and production services to clients in Europe, it has normally been practical to send all our own equipment via freight and fly the technical crew over to rendezvous with the equipment onsite. Singapore, being on the other side of the world was a bit different, and it was quickly obvious that we needed a local production company to prepare the way and work alongside our team when they flew out.
As with the venue, a shortlist of 3 companies was prepared, all of whom were vetted and then interviewed via conference calls and web chats. Choosing the right local agency was, perhaps, the most important element of this conference production as both parties would rely heavily on each other from start to finish. Once the choice was made, we really got going.
The Audio Visual Package is at the heart of any Conference Production
Given the importance of this conference, we were given freedom to really go to town with the audio visual package. Our onsite team of 6 controlled the show ensuring everything ran on time, to script and seamlessly. The package comprised:
The audio visual solution involved the production of a bespoke twin screen set housing 2 x 85" HD LED Screens, and the whole set was wrapped in a printed stretch fabric for striking branding on set. The stage was a simple 4m x 2m stage with branded lectern and fitted carpet giving it a professional feel. This was complemented with various presenter screens including current slide, next slide with notes and a timing screen.
All video was controlled by a high-end switcher and was fed by 3 laptops for show content and 2 video playback machines for video content required.
Sound involved a 6-speaker system with 4 speakers for the audience and 2 monitor speakers for stage and additional sub speakers. We provided a range of radio microphones, including tie clip, handheld, headset and catch box microphone for audience interaction. The sound was all controlled from a 32-channel digital sound desk.
Lighting involved LED battens up-lighting the set and all walls, whilst LED stage wash was used to illuminate the presenters when on stage. The lighting package allowed us to change the whole room into any colour scheme that was required, and everything was controlled by a digital lighting desk.
A broadcast high definition camera with cameraman was supplied for live footage to screens but also recording for future use.
We Also Provided the Entertainment and Team Building Elements
In addition to the audio visual package, we also supplied a photographer to capture the event as well as all off site activities, which included:
A caricaturist for pre-dinner drinks on one of the evenings.
Production of all signage and graphics for the event, including pull ups and banners.
Management and delivery of a team building event called Dragons Apprentice.
Dragons Apprentice required the teams to find and develop an alternative use for an everyday product, including the production of a prototype. The teams were required to make a 3-minute pitch presentation to the whole audience and a panel of 3 Dragons, who would decide whether to invest or not.
The task required teams to leave the hotel and enter the city, sourcing items themselves, managing budget, resources, timings and eventually making their pitch to try to win investment. It was a fun and engaging activity, which succeeded in bringing all the delegates from around the world together in a hilarious but business focused way.
Our Conference Management and Production Services Delivered!!
We're delighted to say that out planning worked, and the conference was a huge success. So, whether you're looking for a conference in the UK, Europe, Singapore – in fact anywhere in the world – you can be sure we have the experience and skills to deliver. Contact us for an initial discussion.
Looking for a
Great Conference?
Whatever your ideas, challenge us to help make your next conference truly memorable.
Challenge Us!