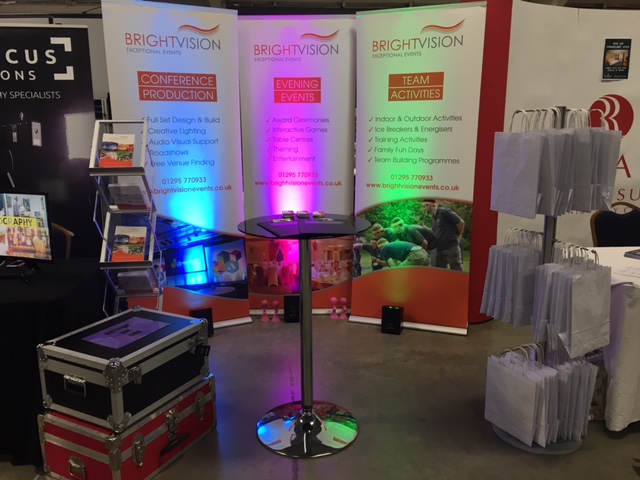 Exhibition Stand Management News
Practising what we preach with our own Exhibition Stand Management
We always talk about planning and preparation being the key to any event. So when we exhibited our own company, Bright Vision Events, at the Business & Trade Expo at Stoneleigh, Warwickshire on 15th September 2017, we had to make sure that we practised what we preach when it came to our own exhibition stand management. Here we take a look at what went into the event.
The planning and preparation
We already knew the venue well so we didn't need to go and check it out. We also knew the size of space we were to be allocated, so all we needed to do was make sure we booked our stand early, as this Expo is popular.
Then just as we do with all of our exhibitions and events, we had a brain storming session with the Bright Vision Events team about what we would display on the stand and how the stand would look. We knew we wanted to stand out, so we immediately decided on uplighters and our branded pop-up display rollers.
We also decided on printed brochures as a giveaway. Even in this digital world, there is still demand for printed material. We also designed and ordered 2018 wall planners for the goodie bags. After all, the reason why we were there was to exhibit the company to those potential clients who were planning their 2018 events.
And then of course there was the Fuzzy Faces Game. This is part of our QuizMania events package and centres on how quickly contestants can guess the identity of a celebrity as a fuzzy picture gradually reveals itself. Great interactive fun and just what our exhibition stand needed.
Check lists of things to do
The list of things to do included:
Banners,
Poseur tables, Goodie bag stand
Outside the box activity boxes (one of our indoor team building activities)
Lighting
Ipad loaded with Fuzzy Faces game.
Filling the goodie bags – containing: Bright Vision Events Brochure, 2018 wall planner, business cards and bags of chocolates for those taking part in the Fuzzy Faces QuizMania game.
On the day itself
We arrived at 8am to an empty exhibition hall, and spent the next couple of hours setting everything up and making sure it was all working. Everything was to be perfect when it comes to exhibition stand management and preparation.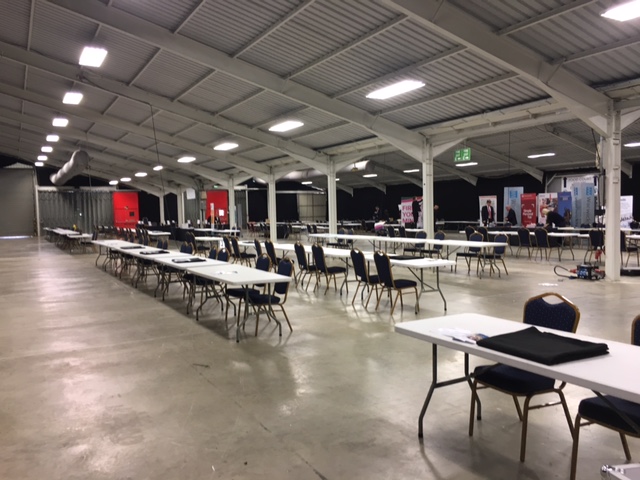 We then had a group photo with all the exhibitors along with a welcome from the organisers the Coventry and Warwickshire Chamber of Commerce. And then at 10am the exhibition opened for visitors and it was pretty much full on for the next 5 hours or so, as we
Met visitors and answered their questions
Asked visitors to take part in our Fuzzy Faces game, and hoot a hooter when they knew the answer – a quick fire round from our QuizMania evening entertainment, and great fun.
Discussed potential business enquiries, which is, after all, what it was all about.
Time went very quickly, and suddenly at 3pm it was time to pack up and head pack to the office. We had a great day and we were certainly one of the busiest and noisiest stands. The good news is that we picked up plenty of enquiries which the team will now follow up.
Take a look at our client testimonials to see how Bright Vision has helped to provide successful and stress free exhibitions and road shows.
Looking for a
Great Exhibition?
If you like this testimonial, challenge us to help make your next exhibition truly memorable.
Challenge Us!
Please contact us on 01295 770933 to tell us your requirements and to discuss ideas.