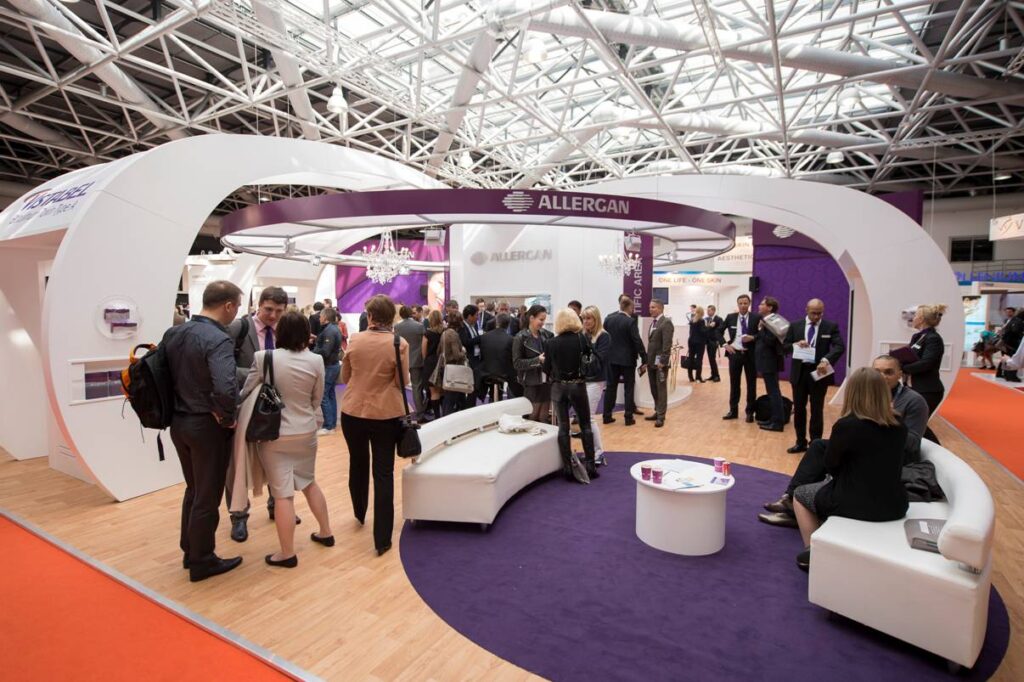 Exhibition Stand Ideas and Design
It's All About Communicating The Power Of The Brand
As a corporate events company, we've done plenty of exhibition planning and management for all sorts of companies. So, along with anyone who has been involved in planning and implementing an exhibition, we are aware of the simple fact that exhibitions are expensive. We also know that costs have a habit of creeping upwards along the way! That said, in our experience it's the creativity and the quality of exhibition stand ideas that must come first. No amount of extra budget will rescue a poor idea. Here we look at our brand focused approach to exhibitions.
More Money Isn't Everything with Exhibition Stand Ideas and Design
Imagine the scene. Your company is exhibiting at a big trade show. The concept is great and so is the stand design. All of your customers and suppliers (and even competitors) are in one place and your company has the chance to really stand out in front of a captive audience. The reality is, of course, that everyone is in the same boat, fighting for the same exposure from the same opportunities. And that means it is very hard to stand out.
The conventional thinking is that unless you throw ever greater sums of money at the problem you simply won't have a chance. That is not quite technically true. Be prepared to retain a good exhibition stand design and build company – and of course that comes at a premium – but never assume that more expense guarantees better or best. Our advice is to get creative first and put your brand at the core of every decision you make.
The Exhibition Stand Design Is Key to Your Brand
The key lies in your stand design. The stand is displaying your brand. Your brand is powerful so communicating its message is fundamental to any successful stand. Designing, visualising, building and running a high quality exhibition stand is not a cheap option. However, to maximise the chances of a good return on investment, what really matters is partnering with the right exhibition management and stand design company. This will enable you to deliver an award winning stand at a fraction of the budget that some organisations sign off at. So what's our advice?
Your brand comes first.

You should always start with your brand and that doesn't just mean emailing over the brand guidelines to your exhibition company and letting them get on with it. Your brand is powerful and precious so tell them what your brand really stands for and how you want it portrayed at the exhibition. Once that is made clear, let the exhibition company come up with their ideas. It's down to them to wow you at concept stage.

Avoid basic exhibition stands.

A typical basic (or cheap) exhibition stand, says all the wrong things about your brand if it is a premium product. It's a basic logic but one that is very often ignored.

Then comes the exhibition stand design.

Getting the communication of the brand right unlocks the door to getting right all of the important things that follow:
The stand's physical design and look,
It's footprint,
How exhibitors walk around and interact with the stand,
What's on display,
Your stand's attention grabbing attractions
All of these facets need to be aligned and working in harmony in order to reflect your brand's image. They are not stand alone elements, either. A clear and succinct plan, built around the brand, means that everything else follows, with the likelihood that your exhibition stand design will stand out from the crowd.
If You're Looking for Fresh and Creative Exhibition Stand Ideas, Get in Touch
When it comes to exhibition stand ideas, put your brand first. Protect it and then decide how you want to portray it; it's the biggest decision you will make. Contract an event management company who aren't just a team of talented carpenters who are good with a saw. Our advice is to engage a specialist professional exhibition stand design and build company that shows it understands your brand. It will be the best decision you make!
At Bright Vision Events we always work from the brand first, so if you're interested in seeing what we could do for your exhibition, have a look at a couple of our more recent testimonials: Aviva and Comma Oil. If you like what you see, contact us or call us on 01295 770933 for a chat about what you need.