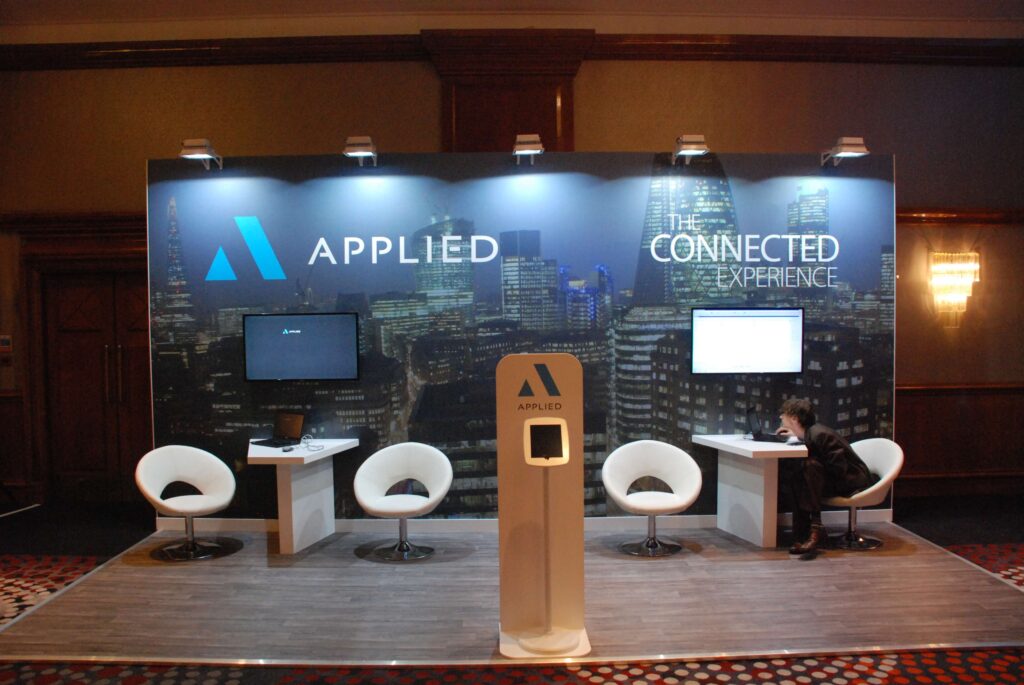 Exhibition Management and Production News
Getting exhibitions right is harder than you think!
For anyone involved in an exhibition, either as an exhibitor or part of the installation team, there is an unwritten rule. Exhibition management and production is harder than you think. Always. This article is about why this is so and how life can be made easier.
Exhibitions are challenging, sometimes stressful and always hard work. That's why you need support from the best exhibition management and stand design and build team you can find. Here at Bright Vision Events, we have the experience and know how to make the exhibition experience an enjoyable one rather than a chore. Here's a few of our testimonials:
Exhibitions. What's the most important thing?
For our clients the only thing that really matters is winning business from and creating contacts with the people that visit your stand. Exhibition stand space costs a lot, so it's important to deliver a good return on investment. It's all about selling and making a positive impression. The last things you need to worrying about are:
Does the audio visual equipment work?
Will the exhibition stand look as impressive as the visuals?
Whether the internet, electricity and water are all installed properly.
If you bring in a professional exhibitions company, they'll do the 'heavy lifting' for you.
Exhibition Management is all about planning and attention to detail
A successful exhibition starts months in advance. At Bright Vision Events, even before you contract with us, we will provide you with CAD floor plans of how the stand could be set out. We also develop high quality 3D stand designs to choose from.
This attention to detail at an early stage, enables us to cover off potential challenges that often crop up, including: the location of the electricity or water supply to the stand; the correct internet solution; the need storage, catering, kitchens and meeting rooms. We aim to cover every single detail for you right from the start.
As the event approaches we ensure all branding and graphics are proofed and signed off. This means that by the time the exhibition starts, most of the hard work – venue coordination, logistics and merchandise – has been done. Leaving you and your sales team free to focus on your job of selling your company's products and services.
We haven't mentioned the Stand-Build yet
Once the preparation is done, all that's left is to build the stand itself. This is the exciting bit. Seeing an empty space being transformed into an incredibly powerful and visually dramatic stand is a brilliant buzz. It's also hard work. If it's a big exhibition, hundreds of other stands are being installed at the same time, which means the loading bay is full, fork-lifts are whizzing everywhere, ladders are in the way and drills are constantly in action. Chaos reigns!
Bright Vision Events takes all of the build headaches away. All you need to do is turn up the night before the show ready for the exhibition to start. We put so much planning into the operational delivery, from organising exact timings with the venue, our drivers and crew, to delivering an accurate schedule that we hit deadlines time after time again. We have even transported a real F1 car from the UK to Eastern Europe, so no task is too challenging.
And Finally, Audio Visual Support
Our support doesn't end there. Drawing on our expertise and experience in conferences, we provide all audio visual equipment giving you onsite technical support throughout the show. We can provide all stand staff too, from reception staff through to baristas and everything in between. Stand attractions, managing stand, cleaning, providing security we look after the whole experience for you.
So, if you have exhibited before, then you'll know the challenges exhibitions bring. If you haven't been 100% delighted with the service you have been getting, why not engage with a really professional and experienced exhibition management and stand build company? You won't regret it!
Contact us or call us on 01295 770933 for an initial chat.