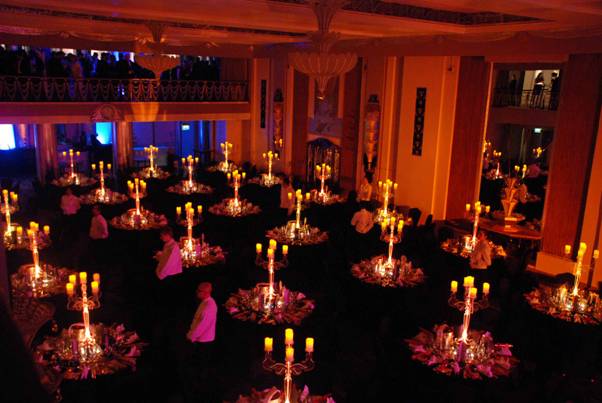 Event Theming and Table Centres
Table Centres Play a Big Part in Successful Events.
When it comes to event theming, table centres are really important. They play a big part in the making the evening meal or gala dinner an exceptional one. We take great pride in making a room look spectacular. From the initial enquiry, we will advise and support all along the way so that the Table Centres are superb. This article looks at some of the key points to successful Table Centres as part of our event theming expertise.
Table Centre Design That is Attractive, Elegant and Practical
From previous experience and feedback from our clients we know that practicality is just as important as elegance and good looks when it comes to table centres. For example, when guests need to view a stage and presenters, the table centre must be designed not to obscure their site line.
Reflected Light can Really Enhance a Table Centre
We're always looking to improve and enhance the effect of our Table Centres. In particular, one of the things we wanted to achieve was to capture the benefits of our remote controlled LED lighting through the use of an appropriate material that would diffuse the lighting within the table centre itself.
By incorporating an engraving on acrylic material that picked up reflected light effectively, we were able to ensure that the Table Centre delivered a superbly enhanced appearance. Plus, the base lighting can be set to a colour of your choice to go with the theme of your event.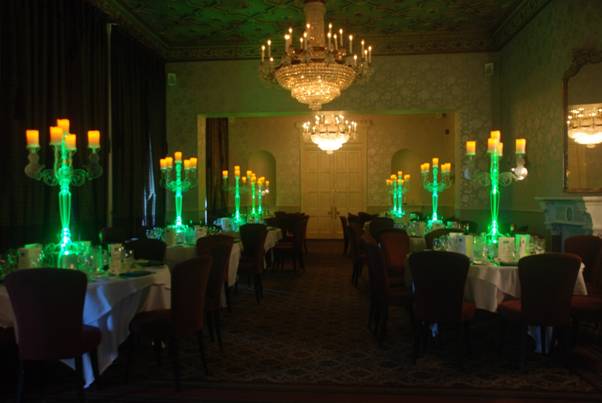 We are exceptionally proud of our Candelabras!
Candelabras are the original Table Centres and, of course, no candelabra is complete without candles. Recently, we sourced some high powered artificial church candles that are in effect made out of wax and have a realistic flicker.
With the table centre measuring 1.2m in height, it really added to the ambience of the room and when lit by our LED coloured lights it provide a lovely element of lighting on the table and also reflected beautifully off the ceiling and walls.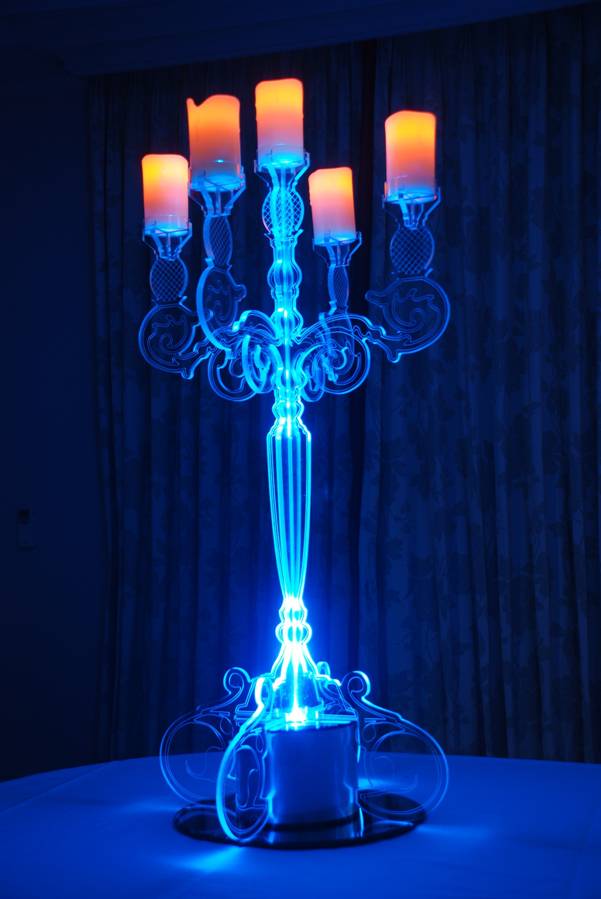 Our Table Centre Lighting Really Works for Event Theming
At a recent themed event, we tested the lighting effect of our table centres. We switched off all of the lights in the ballroom and the effect was astonishing, whilst also providing sufficient lighting in the room at dinner. We were delighted with the effect as were the guests. In fact many of them took photos and shared them with their friends. The client was happy, too.
Contact us for Stunning Table Centres
In recent months, requests for our table centres have exceeded our expectations. In fact we have increased our stocks to meet demand. We now have a huge range of table centres perfect for themed events.
All of our table centres have a circular see through acrylic base. This allows our clients to feature their logo or add a particular theme or pattern to really personalise the event.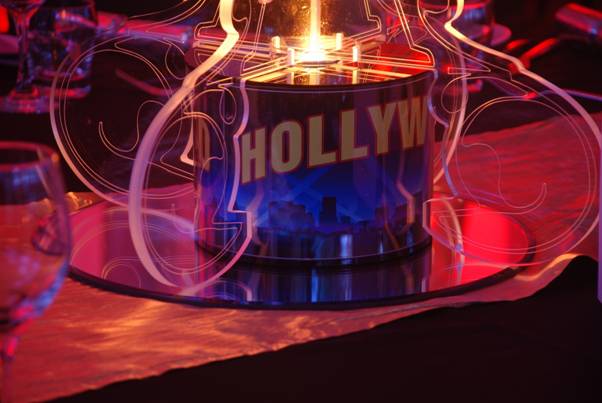 If you're looking for stunning table centres as part of your themed event please contact us. Alternatively, call us on 01295 770933 for an initial discussion.