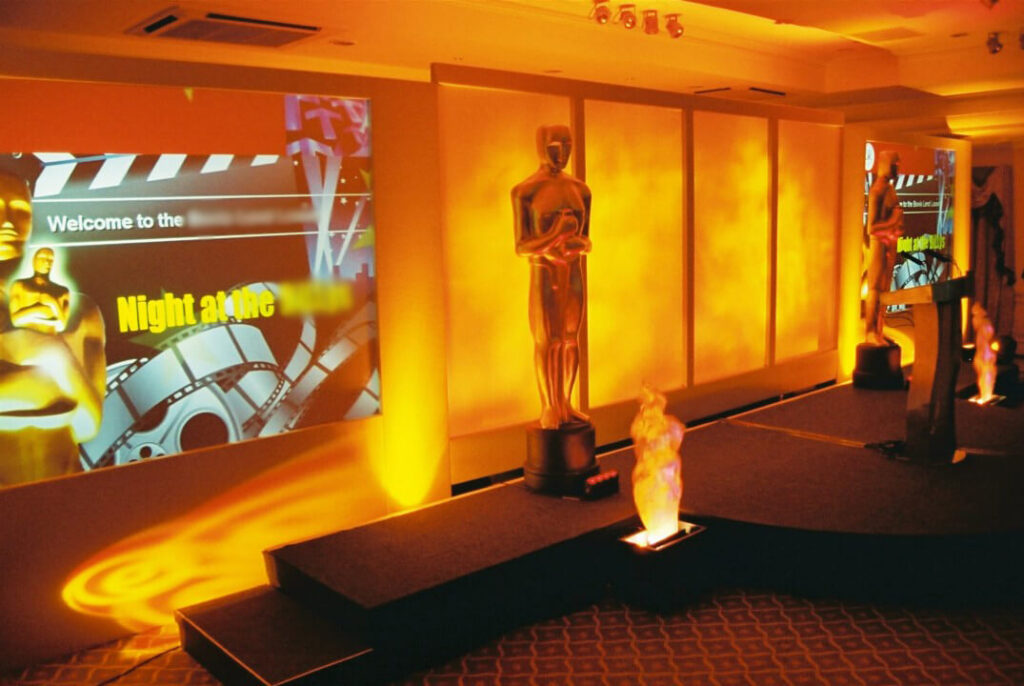 Evening Events Ideas and Award Ceremonies
A Night at the Oscars: one of our Most Popular Awards Ceremonies
We manage and produce a lot of evening events for our clients, many of which are awards ceremonies. We're often challenged by our clients to come up with new evening events ideas, but a Night at the Oscars is still the most popular of our award ceremonies. This article looks at why it is so popular and gives a flavour of the work that goes in to ensuring that all of our evening events deliver exactly what our clients want.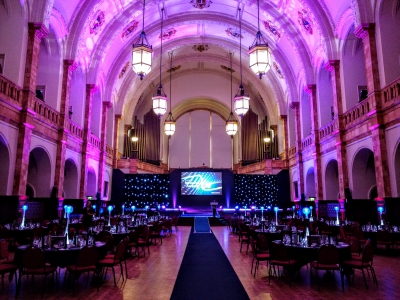 The Popularity of a Night at the Oscars
Our clients tell us that it brings the glitz & glamour of Hollywood to their evening events, and makes their guests (who are usually employees and sometimes customers) feel like superstars. It really is 'red carpet treatment' all the way.
The ambience of the event is vital to its success, so it's important to ensure that guests relax, mingle and interact. A great way of ensuring this is to provide entertainment or background music and visuals. This ranges from musicians to magicians, caricaturists to musical acts, comedy waiters to paparazzi, and superstar "look-alikes" to interactive entertainment. It all adds to the sparkling atmosphere.
As Ever, it's the Planning that Ensures a Successful Evening
Recently, we were asked by a local venue we know well to help with their staff awards ceremony night. We were delighted to help.
The brief was to deliver an Oscars Theme for around 100 staff, along with props and Hollywood style lighting.
Our planning team jumped straight into action. Knowing that there were a number of other Award Ceremony events taking place over the same weekend, the team's first job was to check the availability of the props and equipment that would be needed. Once this was done, we were able to offer the venue exactly what they wanted, including:
7ft Oscar Statues
LED flame lights
Red Carpet
Ropes and Stanchions
Star Cloth
Table Centres
The Table Centres Were Stunning
We arrived at the venue on the afternoon of the event to set up the 10 tables. Each table featured our stunning 1.2 metre tall acrylic candelabras. These are up-lit by a powerful multicolour LED light that can be set either to one of 16 colours, or to softly scroll through all the colours.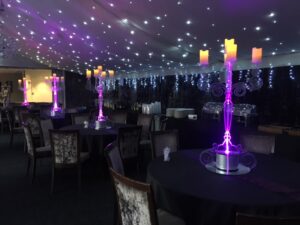 For this event, we set them to the hotel's purple colour scheme. To add to the glamorous effect, each candelabra has 5 authentic artificial wax candles that have an authentic flicker. For a spectacular finish, each candelabra stands on a 15cm high silver base set on a 40cm diameter mirror. The overall effect was stunning.
And the Red Carpet Added the Finishing Touch
Once the table centres were in place we positioned the star cloth in the entrance of the main room, with the Oscar statues positioned on either side.
The red carpet was positioned in front of the star cloth, great for photo opportunities, whilst the whole thing was set off by flame lights positioned at either end of the red carpet. With everything in place, the lights dimmed and the room was ready for the staff Awards Ceremony. Very Hollywood!
If You're Looking for Evening Events Ideas, we Would Love to Hear From you
Looking for a
Great Evening Event?
Whatever your ideas, challenge us to help make your next evening event truly memorable.
Challenge Us!
Take a look at some of our evening events' testimonials. If you like what you see, why not challenge us to come up with some new evening events ideas, or if the Oscars Ceremony is your thing, simply contact us or call us on 01295 770933.