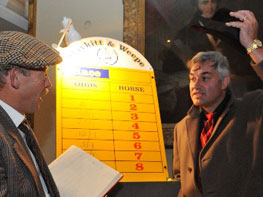 Evening Entertainment Ideas That Really Make a Difference
When you're organising a company 'evening get together', and you're looking for something a bit different, come to us for evening entertainment ideas. You'll find we've got loads of options to entertain your guests. At Bright Vision Events, we are specialists in all types of events and we're here to come up with ideas that will give your 'evening entertainment do' the WOW factor.
Whether as a standalone event, part of a conference (take a look at this page to find out more about this type of event) or at the end of a team building activity day, we guarantee an exceptional evening event. Our most popular evening entertainments  are our very own 'Banzai' Night, a 'Night at the Races' and 'Casino Nights'. If you're looking for something new and different, just give us a brief and we'll come back with a whole raft of evening entertainment ideas. We love a challenge.
Our Banzai Night Evening Entertainment
If you remember watching Takeshi's Castle on TV then you'll get some idea of what Banzai Night is. Our Banzai Night is a spin-off of the TV show, but with a difference. Like the TV series there is a series of rounds, but in this case it's not a "quiz". Instead, teams have to bet with 'fun money' on the outcome of various propositions.
Banzai Night is about as interactive as any show can get. Not only do teams have to bet on the right answers, but they will, on occasion, be "invited" to stage their own challenges. The results can be hilarious. Our version of Banzai is completely mad, and is more like a comedy show than anything else.
Tables will be supplied with themed Japanese table numbers/centres & jokers (called Lucky Chappies) to potentially double their points on a chosen round. Additionally, the stage/screen is flanked with Japanese-style screens. Hanging silk completes the effect
Bets are placed at our "Happy Chappy" bookmakers, where our unscrupulous bean counter isn't quite as straight as he should be.  Your guests will be fully entertained and it will definitely be a night to remember.
A Night at the Races
Our highly acclaimed Night At The Races Horse Racing evening entertainment is suitable for all types of event, and can be run for fund raising or purely as an entertainment.
Guests may bet individually or in teams. Fun money will be issued equally to all "syndicates", together with race cards prior to first race.
Odds will be written for each horse on bookies' chalkboards prior to each race and guests then bet on their chosen runners. A betting ticket is issued and the "clerk" records the details of the wager. Pay outs are made straight after the race and include returns for 2nd and 3rd places as well.
At the conclusion of the racing, the fun money is totalled to determine the winners, or may be used to bid in an auction of prizes. Overall, a great interactive evening of entertainment!
Casino Night
The Casino Night is one of our most popular evening entertainment ideas. Our authentic, full-size quality tables ensure that almost any room can be converted into your own personal casino for the night. Our friendly and professional croupiers ensure the atmosphere is as close as you can get to the real thing!  A variety of the most popular and enjoyable casino games are available, including:
Black Jack. A variation on traditional "21" or "Pontoon". Black Jack is played in every Casino the World over. This is the most popular game and everybody can play it.
Casino Poker. A newer game also known as Caribbean Stud – an interesting poker variation.
Roulette. Choose your lucky numbers from zero to 36, or play safe on odd/even or red/black. A single number pays 35/1 which is far better odds than the National Lottery!!
Punto Banco. A variation on Chemin de Fer, the famous favourite of a certain Mr. Bond.
Craps (Dice). Very popular in America. It is loud, fast and exciting.
Our croupiers are there to guide you on the rules and will even recommend strategy if you are unsure. Fun Money will be issued equally to all guests, is exchanged for chips at the tables.  At the conclusion of the evening Chips are totalled to determine winners.
We will theme the room with star cloths, up-lighting and props to ensure the mood is set for a fun filled evening.
Contact us for Evening Entertainment Ideas
Whichever style of evening entertainment you opt for we are confident we will exceed your expectations and that you and your colleagues will leave having had a fantastic, fun filled evening. Click here to see a recent testimonial for evening entertainment from a delighted client.
We like a challenge, so If you're looking for the WOW factor when it comes to evening entertainment ideas contact us or call us on 01295 770933 to see how we can help you.