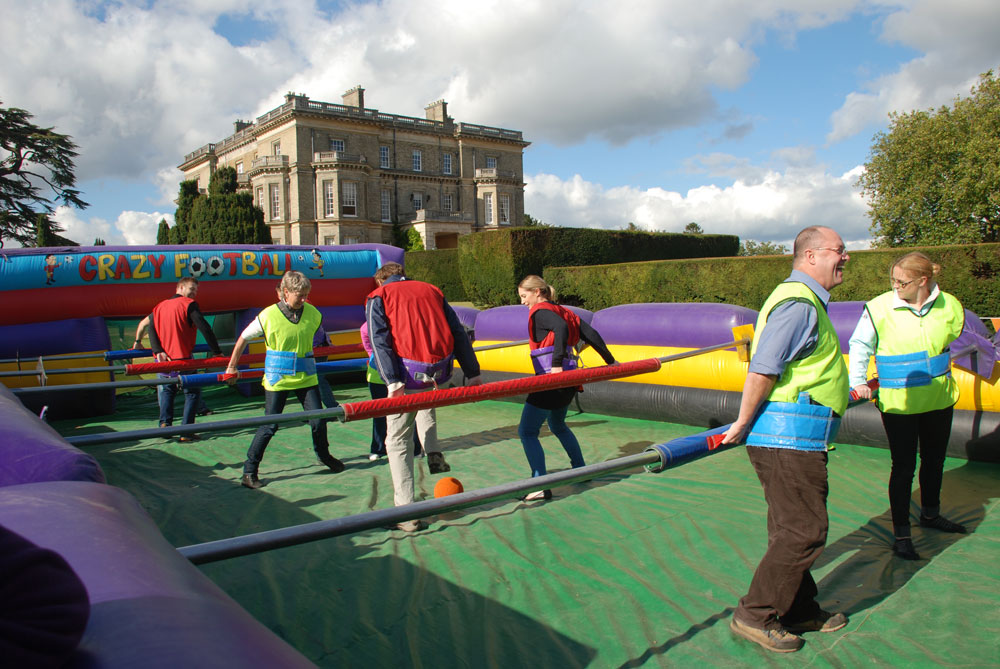 Corporate Events Activities and Family Fun Days
Corporate events are not always about a meeting followed by another meeting, presentations and plenary sessions. Just as often corporate events activities are about rewarding your employees with a fun activity day out with their families. Our Family Fun Days, whether indoors or outdoors, are often used as a way to thank a company's staff for all their work related efforts by getting them to bring the family along too. So, whether it's for 50 or 5,000, we can help and we guarantee to get everyone smiling.
Challenge us to Come up With new Activities for your Family Fun Day
We know that when it comes to corporate events activities, and family fun days are no different, that the ideas are just as important as the planning and the production and management. It's all about boosting camaraderie and enthusiasm and delivering bonding activities that will build team spirit and communication skills. We leave nothing to chance. Take a look at some of our testimonials across the raft of different types of events that we run that stimulate employee motivation and cohesion and are motivational too. And if you want something different, then challenge us to come up with some fresh ideas.
Our Family Fun Day Activities Include:
Family fun days are central to our offering as a company team building corporate events and activities specialist.
A corporate outing or a family day of fun team building activities can really help build effective communication and employee engagement. The following is just a flavour of some of the corporate activities to build teamwork we can deliver:
Outdoor Activities
Free Flow Activities. These include: fun fair stalls, coconut shy, hook-a-duck, hoop-la, tin can alley . Our stalls are all brightly-themed, very colourful and include 50 soft-toy prizes per stand.
Laser Clay Shooting. This is high tech clay pigeon shooting without the recoil from a normal shot gun. Five adults can shoot at any one time and an electronic scoreboard keeps the score. Completely safe, fun and very competitive!
Archery. Using competition-standard target bows and crossbows, the instructors will teach you how to hit gold every time (hopefully!)….
Lawn Games. A wide selection of team challenges and games will be set up outside or indoors for guests to have a go at any time. The games are predominantly left unstaffed for guests to referee themselves and could include any of the following: Giant Jenga, Giant Dominoes, Giant Draughts, Giant Connect 4, Quoits & Boules.
Circus Props. Our circus props include: clown display boards, circus and wild west peep through boards, which always make a great photo!
Giant Inflatables. Choose from inflatable volleyball, bucking bronco, bungee run, surf simulator and the fantastic 'last one standing' where participants try and see who can stay on the longest. Guests take their place and have to jump over a giant foam arm that sweeps around. If they get knocked over, they are eliminated. Great fun to watch and take part in.
Mixed activities. Great for all age groups: segways, pot throwing and welly wanging competitions.
Pedal karts. Our full sized 'Berg' pedal karts with adjustable seats are suitable for adults & children. A circular course will be marked out by cones and bunting on the grass and guests simply enjoy the experience of pedalling around. In the case of younger children who might find pedalling a bit more of a challenge, parents can help by pushing ensuring that everyone can enjoy the ride!
Indoor, Children's and Other Activities
Indoor Games and Activities. Because you can never rely on the weather, we've got lots of in indoor games to choose from, including: Giant Scalextric, Giant Nintendo Wii 'Sports', Golf Putting, Table Football and Air Hockey.
Children's entertainment. Bouncy castles, giant slides, children's entertainers, soft play, ball pond, puzzles and face painter – all to keep the children occupied whilst the adults can have fun too.
Structured Activity Programmes. From Space Hopper Football to a variety of alternative Olympic challenges, such as the all-time favourites: the sack race and the egg and spoon race. But beware our eagle eyed referee will spot anybody that's trying to cheat by holding the egg with their fingers!
Arena Events. Arena displays are real crowd-pleasers and can range from falconry to dog handling or from marching bands to clown cars.
Showpiece Activities. These activities are designed using the "wow" factors of focus, colour and an amazing backdrop to the event to make it extra-special for guests. They are great fun for the whole family, visually impressive, exciting and definitely unmissable! Our showpiece activities include: Climbing Walls, Inflatable Quasers, Bungee Trampolines, Ferris Wheels, Dodgems, Helter Skelters and Carousels.
Music and Entertainment. Our activities in these areas include Photo Booths, Magicians, Caricaturists and Jazz Bands.
Free Venue Finding Service for Corporate Events
Finding the right venue is the icing on the cake for any event. Our free venue finding service will help find the right venue at the right price.
Contact us for Corporate Events Activities and Family Fun Days
We offer a huge range of corporate days and collaboration activities to keep all the family entertained and engaged and improve communication. At Bright Vision Events we offer a full event management and production service, so that you and the families can just get on and enjoy the activities. Contact us or call us on 01295 770933 for an initial chat.