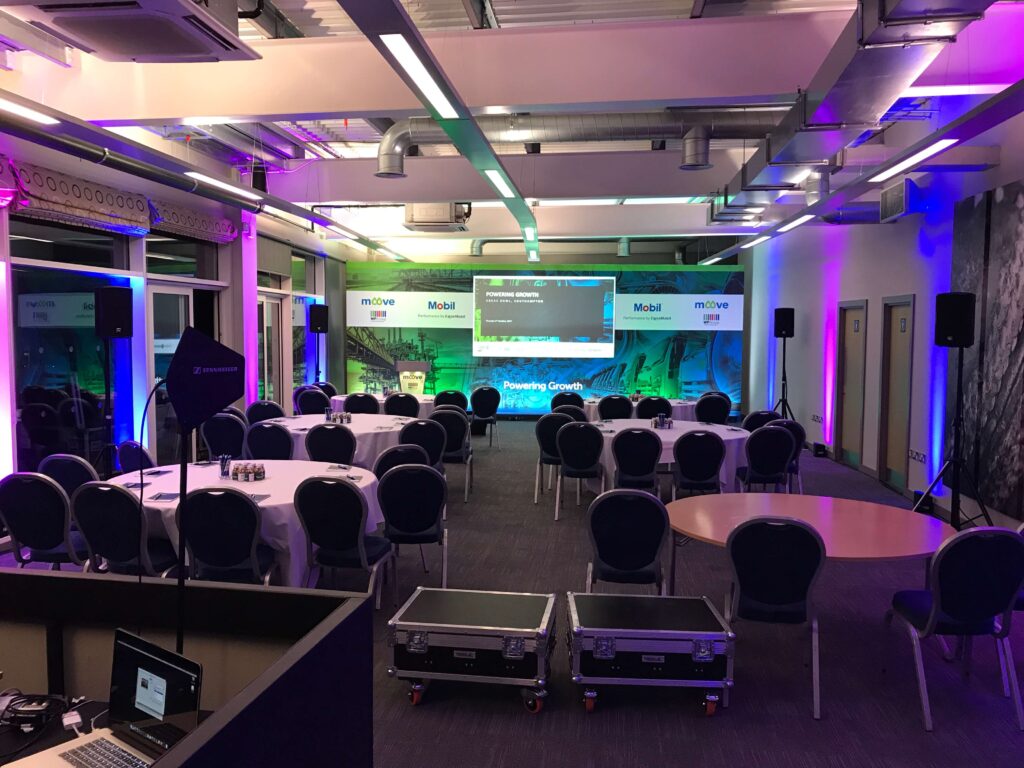 Our Conference Production Services – 2017's Highlights
2017 Was a Great Year for Conference Production
2017 was a full-on year for us here at Bright Vision Events. The team never stopped delivering great events for our clients, right across our main areas of conferences, creative team building activities, themed events and exhibitions. Now that 2018 is properly underway, we thought we would look back at some of our favourite events from 2017, focusing on the testimonials we received for our conference production services. Here we look at just 3 of these testimonials for conferences, small and large.
April 2017 – Testimonial from IKO for Conference Production and Team Building Activities
This was IKO's main European sales conference for 70 delegates and we were contracted not only for the conference production but also team building activities too – so it was a busy day for us.
As ever, the planning started well in advance, so that everything went smoothly on the day. For the conference we provided full audio visual facilities with HD projection. We were also responsible for the stage, set and data processing facilities.
In the afternoon, once the conference was over, we ran a range of creative team building activities, where the emphasis was on fun and participation,
The client was delighted with its best ever conference:
"…… I would like to thank you and the team for all the arrangements with the Team Building Activities on Tuesday. It was a fabulous afternoon. We've had so much feedback from delegates to say they thoroughly enjoyed the activities and the conference as a whole. In fact the Board has commented that it was the best European Sales Conference that IKO have had. High praise indeed and it's also thanks to your team too."
May 2017 – A Successful Staff Conference for Brother at St. George's Park
This conference took place at the magnificent St. George's Park, the home of the FA's England football teams. The conference was followed by a team awards ceremony in the Bobby Robson Suite, with over 100 people attending.
As always, attention to detail is everything, which is why we were delighted when the client, Brother UK, called us an extension of their in-house conference production and management team:
"Thank you so much for your hard work, you really make a difference to how our event looks. And we all love working with you guys, you make it relaxed and pain free. The feedback that I receive from my colleagues is very positive. We see you as part of our extended team."
November: Conference Production and Team Building Activity Testimonial from Moove
"Thanks again for last two days, great job as always."
Once again we doubled up with a conference in the morning, followed by a team building activity in the afternoon, both taking place at the Ageas Bowl in Southampton, the home of Hampshire County Cricket Club.
This conference was characterised, in particular, by the use of hi-technology kit to guarantee the best possible production values. From HD sound and vision quality, via a 24/48 channel lighting desk to a 16 channel sound desk, everything was in place.
Contact us for our Conference Production Services
Looking for a
Great Conference?
Whatever your ideas, challenge us to help make your next conference truly memorable.
Challenge Us!
2018 has already started with a bang for us. If you're planning a conference for your company at some stage in 2018, please contact us or call us on 01295 770933 for an initial chat. If you want something a bit different, challenge our conference production services team to come up with something creative and exciting for your company.