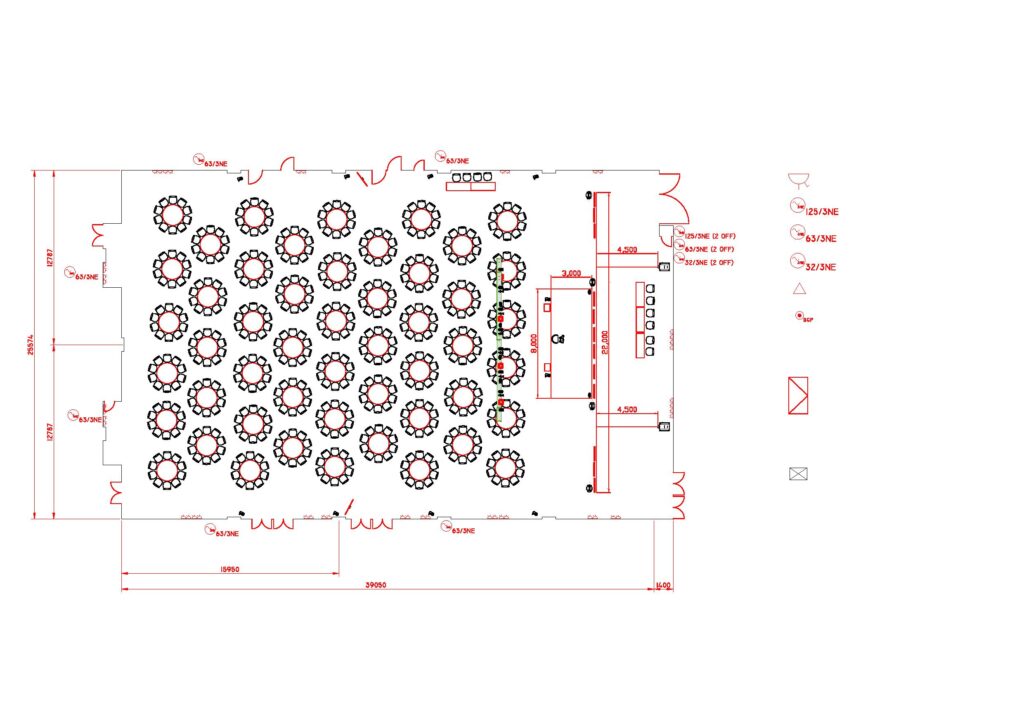 Conference Production and CAD
Conference Production – Bright Vision Events Improves In-House Design Capability.
It's about technology as well as creativity when it comes to quality corporate conference production. At Bright Vision we are always developing and improving our services for our clients. Our latest investment is in a state of the art CAD drawing software package. The package has significantly improved our ability to provide accurate floor plans and room layouts, in-house, for clients and venues. This is vital when it comes to conference production and management, as well as exhibitions. This article looks in more detail at the benefits CAD brings.
Why is CAD so Important to Corporate Events Companies and their Clients?
For us it's simple. We can now produce in-house accurate 2D scale drawings of the conferences and exhibitions we plan and manage. This means we no longer have to outsource the work to an external design company. All of our conference production managers are fully trained on the software. This means we are able to produce drawings of every conference we deliver quickly, accurately and cost effectively.
We can now show and demonstrate visually, right from the start of the proposal process, the layout of the conference room or exhibition space – and contents – precisely and accurately, right down to the last chair. There's no more guessing as to whether an extra table can be fitted in. Every element in the room goes on the drawing in its exact position. Nothing is left to chance.
From now on, our CAD drawings will enable our clients to see exact audience size and how their audience will fit comfortably into the specific conference or event space, along with all the audio visual equipment and the rest of the kit. If numbers change, the system allows seating layouts to be quickly re-configured. This means that the client is safe in the knowledge that it will work, in practice, when it comes to the day itself.
CAD also helps Technical Decision Making for Conference Production
The technology can help with much more than seating plans and what goes where. For example, it can help to determine whether to use front or back projection, what size and shape the stage should be, and even the effect of using trussing from the ceiling. And, of course, as many options that are needed can be produced, allowing comparisons to be made in real time, improving the quality of decision making. All parties get an early and accurate feel for the likely flow of the event too, reducing the chances of unwanted surprises on the day.
The Client and the Venue both benefit
By being able to supply very early on in the planning process, and amend them quickly if required, the venue can be kept in the loop and the venue also understand fully the preferred direction the client wishes to proceed. The potential for confusion is immediately eliminated removing the chance of that sinking feeling you get when upon arriving you find that the venue has set the room up wrongly.
Venues love conference production companies who can clearly demonstrate and simply visualise how the event will look in advance. Our new CAD software makes all pre-event meetings much more efficient. This allows clear and informed decisions to be made between all stakeholders.
Contact us to benefit from our CAD enhanced Conference Production Skills
Whether you are running a conference or exhibition for the first time or are using a new venue, having detailed and accurate floor plans is now an essential element of the conference production and management process, greatly increasing the likelihood of a smooth and successful event.
So, if you're planning a conference or exhibition, contact us or call us on 01295 770933 for a chat. One thing's for certain. Once you see how the CAD system works, you will wonder how you ever survived without it.