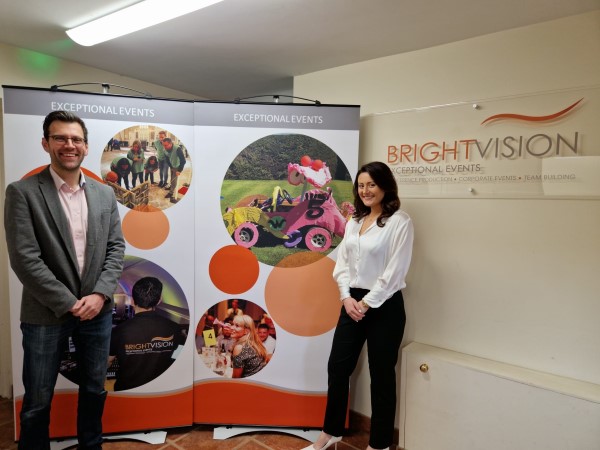 A BIG Bright Vision Events welcome to Ellie Wallis
Ellie Wallis is our newest Events Manager… but she has already worked with us for 10 years!!
Following on from our record year in 2022, we've already got 2023 off to a fast start, as we continue to make our clients happy with producing and managing exceptional conferences and team building events. And that means we need more people to ensure we continue to grow and to deliver to the highest standards.
Getting new people can be a lengthy and time-consuming process, especially when you need to find the best people… and quickly. In Ellie's case, it was easy, because she has been working for us for 10 years as a freelancer and is one of our top event facilitators. In fact, she did her work experience with us all those years ago, so she knows us, how we work and our products inside out. We are delighted she's agreed to come on board.
Managing Director Ben Hull said:
"As we continue through a period of growth for the company, it's absolutely critical that we recruit the very highest talent in the industry to enable us to continue to deliver the best standard of events. Ellie is an exceptional event manager and to get her on board is a massive win for the business. Her attention to detail and planning skills are second to none, and combined with first class event delivery, Ellie is a perfect fit for Bright Vision Events.
Ellie has worked with the business in a freelance capacity for a number of years so already knows our values, ethos and the standards we set. Bright Vision Events is expanding and this is all down to our superb team of professionals. Ellie is another outstanding addition to the team and she will add hugely to the experience clients receive when they work with us."
Ellie commented
"I'm delighted to be increasing my role here after years of being involved in the delivery of the highest quality events for Bright Vision and watching them grow from strength to strength. Every event I've worked on has made me proud to be part of the company and I can't wait to start learning about the many other aspects of the business, especially during such an exciting time of growth."
Contact us to talk about your Conferences and Team Building Events in 2023
If you are planning your corporate events in 2023, from team building to conferences, and everything in between, whether that's face-to-face, hybrid or virtual, then please contact us, or call us on 01295 770933, for a no obligation initial chat.
With Ellie joining our team, we are well placed to continue to deliver exceptional events.