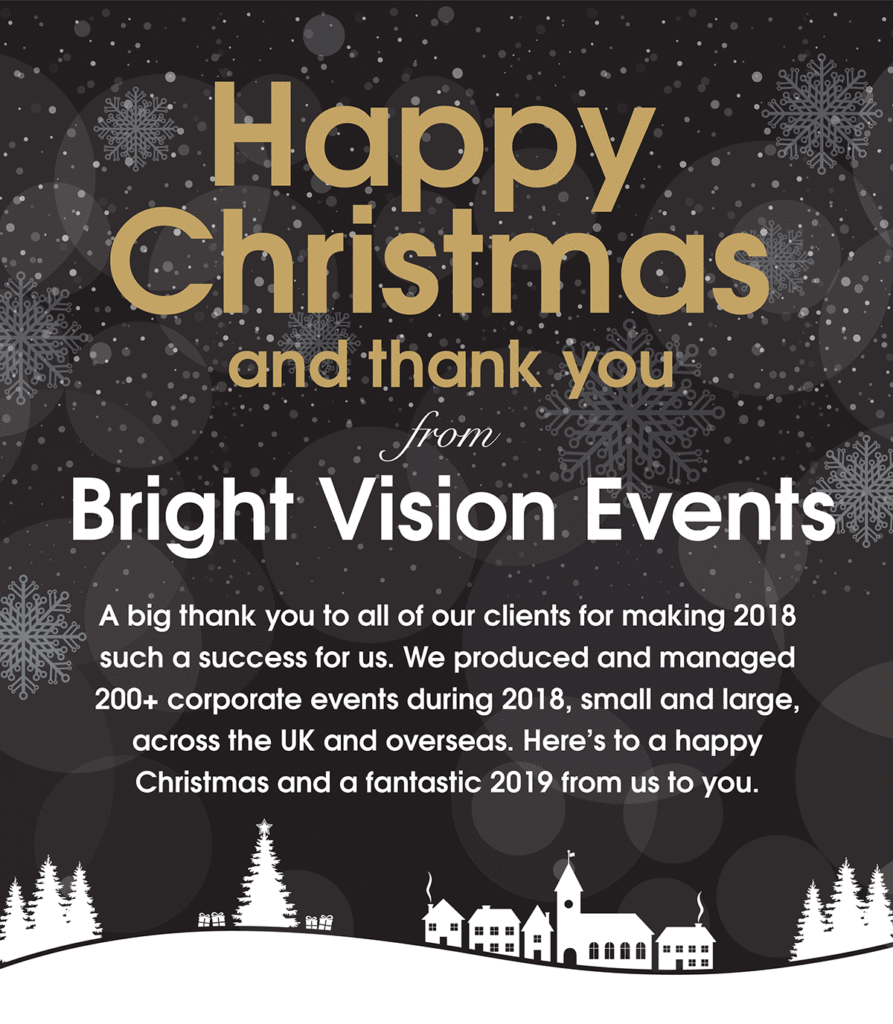 Over 200 Corporate Events in 2018
2018 – What a Great Year for Bright Vision Events!
A big thank you to all of our clients (and our suppliers) for making 2018 such a success for Bright Vision Events. We planned, produced and managed over 200 corporate events during 2018, from small to large, across the UK and overseas, covering conferences (look at this page to find out how we produce quality events), exhibitions, team building and evening events. Here we take a look at a few highlights from 2018 and look forward to 2019.
2018 Got Off to a Great Start – and Never Stopped
Our diary of 'booked' corporate events started filling up quickly from the moment we arrived back at work after the Christmas/New Year break. January was already full, with events scheduled for London, Cambridge, Milton Keynes, Warwickshire, Manchester, Surrey and Rotherham and each successive month filled up rapidly as the year progressed.
Located in the centre of England, we're well placed to coverall of the UK, and 2018 saw us further extend our international footprint, too. We travelled to Singapore, Amsterdam and Prague to produce and manage corporate events for our clients.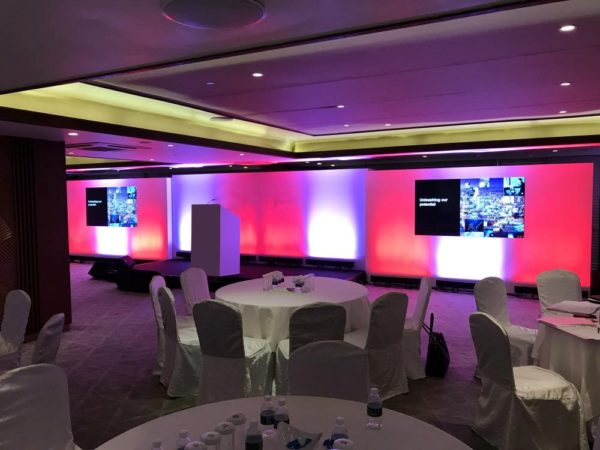 Whatever month it was, our team was busy planning and delivering events.
New Event Development
We're in a fast moving and fast changing business, which means we're always working to come up with new corporate events and ideas to bring to market.
We introduced several new team building activities to our roster in 2018: The Escape Room, iPad Treasure Hunt and Outside the Box. All of our new activities are thoroughly road tested and trialled before we offer them to our clients, and we're always ready to add a bespoke twist if that's what is wanted.
Our design team were kept busy creating several new table centres to add to our existing portfolio of stunning table centres. These form the centrepiece of evening entertainments, so it's crucial to be ahead of the game in terms of what is popular.
Meanwhile, our creative team were kept busy theming events that were based on: James Bond, I'm a Celebrity, Harry Potter, Hollywood and the Circus's 'The Greatest Showman Theme.'
We've already got several new events and themes in development, ready for launch, in 2019, so watch this space.
Some of the Highlights
There were plenty of highlights, but 4 events that that really stood out were:
A 'Pitstop Challenge' Team Building Activity at the wonderful, Celtic Manor hotel in October. Pitstop Challenge is one of our most popular team building activities – but this was a really big one, with 300 delegates. It took some planning, but all went smoothly.
Drumming at Rushton Hall. Not the average end to a conference! This team building event, with nearly 50 people hitting different types of drum with hands and sticks was truly memorable,visually and audibly.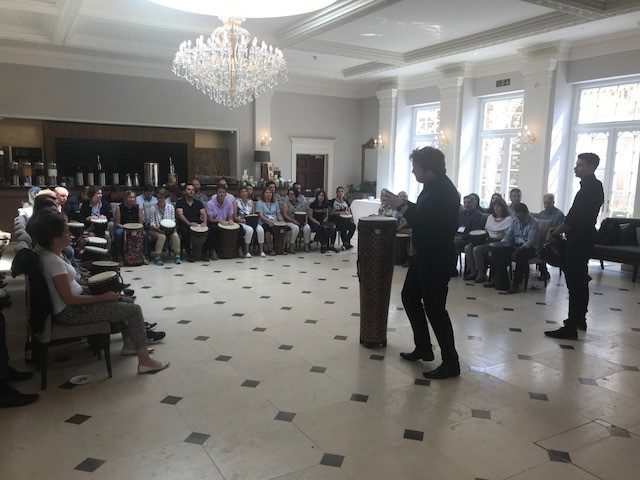 2 events for the IAAF's (Indoor Association of Athletic Federations) Heritage Collection Event in the banqueting chamber of Birmingham's Council House. All conferences require precision planning, but when the 'Beast from the East' struck to make logistics more than challenging, our team on the ground made sure no-one noticed.
Major Conference in Singapore with Team Building and Entertainment. The pressure was on to deliver everything perfectly,including: the entertainment and team building requirements, sourcing and managing the local suppliers and finding and managing the venue. Challenging? Yes, but the team delivered.
So How is 2019 Looking for Corporate Events?
For 2019 we have corporate events already booked in Vancouver with the possibility of events in Dubai.
Repeat bookings from existing clients, which is really the measure of success, are looking strong. And we're recruiting too, with a new event manager coming on board early in the new year.
So, how do we do it? What's the secret? The truth is that it's all down to hard work and attention to detail, with more than a sprinkling of creativity. And, of course, enjoying what you do.
So, here's to a Happy Christmas and a Fantastic 2019 to everyone.
Looking for a
Great Corporate Event?
Whatever your ideas, challenge us to help make your next conference, exhibition, team building day, themed or evening event truly memorable.
Challenge Us!